Malt cake with choclate cream cheese frosting #foodies&Friends. This will help get sides of your cake smooth. This is what your cake will look like when. Swiss Chocolate Cake With Chocolate Cream Cheese Frosting.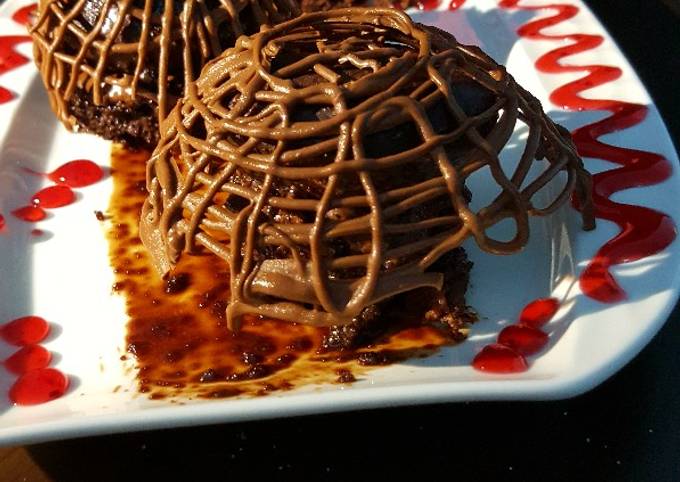 This Chocolate Malt Cake with Creamy Malt Frosting is super simple, extremely soft, and perfectly chocolatey! When the cake is cooled frost it with my EPIC Creamy Chocolate Malt Frosting…oh my word, this frosting is out of control. It's rich a buttery, chocolaty, malty and super creamy! You can cook Malt cake with choclate cream cheese frosting #foodies&Friends using 21 ingredients and 7 steps. Here is how you achieve that.
Ingredients of Malt cake with choclate cream cheese frosting #foodies&Friends
It's of For malt cake spong.
It's 3/4 cup of butter softed.
You need 1 tbsp of coffee.
Prepare 1 of & ½ Cups Caster sugar.
You need 3 of eggs.
It's 2 cup of all purpose flour.
Prepare 1 tbsp of Vanilla essence.
Prepare 1 of & ½ tsp Baking powder.
It's 1 of tbp Baking soda.
Prepare 100 gm of Chocolate malt powder.
Prepare 1 of & ½ Cups milk.
You need 3/4 cup of cocoa powder.
You need 2 tbsp of yogurt.
It's of For choclate cream cheese recipe.
It's 16 oz of cream cheese cold (brick style, not spreadable tub).
It's 1 cup of salted or unsalted butter, room temperature.
You need 1 cup of unsweetened cocoa powder.
It's 4 cups of powdered sugar.
Prepare 2 tsp of vanilla extract.
Prepare of For choclate design.
You need 300 gm of Cooking choclate.
The chocolate cake is really moist and overflowing with rich chocolate flavor, with a hint o' Guinness in the background. But it is made all the better when paired with this heavenly cream cheese frosting. I thought about going with something different for the frosting, but there's a reason cream cheese is. It doesn't have to taste ONLY like cream cheese.
Malt cake with choclate cream cheese frosting #foodies&Friends step by step
Place the cream cheese in a large mixing bowl.Using an electric hand mixer, beat until smooth.Gradually add the butter 2 Tablespoons at a time, and continue beating until smooth and well blended..
Add the powdered sugar/cocoa mixture and vanilla all at once. Blend until combined and smooth. Choclate cream cheese frosting is ready..
For cake spong: Take a bowl. add all dry ingredients mix well and then add all wet ingredient in dry ingredients n mix well with a light hand..
Then pour the batter in to the molds.. and bake it for 35 min on 180'c temperature. After fully done bake just the cake prick with tooth pick. If it's done then take it out n let it rest for cool down...
Then cut the base cake by any cutter. Spread choclate cream cheese frosting a thick layer and cover it with another cup cake...
Melt the cooking cholate on Double boiler.. Coat all the cakes in choclate quickly before the choclate become thick. Leave it for 5-10 mins. It will become thick..
Then take a balloon and make design on balloon n leave it for few mins. When the choclate settle down. Burst the balloon n take off the bowl of choclate and cover the cake by these cups of choclate...
The addition of cream cheese might have made this my new favorite frosting… it was just SO creamy and perfect and wonderful! Now, before you yell at me, I didn't do the typical German Chocolate Cake frosting - where there is coconut and pecans actually mixed into the frosting, but that's just a. Not OP, but your cream cheese needs to be slightly warm, at least room temp, same with the cream, so the cold cream doesnt make the warm cheese seize However I'm less sold on the actual flavours. Chocolate cake with cream cheese, chocolate, blueberries and blackberries just feels a bit odd. This malted chocolate cake recipe comes together in a giffy, and is guaranteed to impress.