Recipe: Tasty Red Velvet Cake (Sponge recipe)
Red Velvet Cake (Sponge recipe).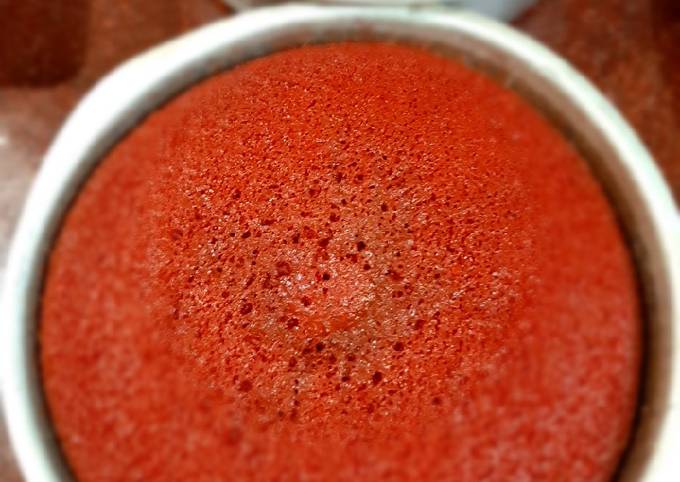 You can have Red Velvet Cake (Sponge recipe) using 15 ingredients and 5 steps. Here is how you achieve that.
Ingredients of Red Velvet Cake (Sponge recipe)
You need For of Dry ingredients.
It's 225 gms of All-purpose Flour.
Prepare 25 gms of Cornflour.
You need 1.5 tbsps of Cocoa powder.
You need 1/2 Tsp of Baking soda.
Prepare 1.5 Tsp of Baking Powder.
It's 1/4 tsp of Salt.
It's 300 gms of Castor Sugar / Powdered sugar.
You need For of Wet ingredients.
Prepare 1 cup of / 240 ml Buttermilk.
It's 60 gms of Veg oil.
It's 60 gms of Unsalted Butter.
You need 4 of Whole Eggs.
You need 1 Tsp of Vanilla Extract/ Essence.
It's as required of Red Edible gel colour(but don't put excess also).
Red Velvet Cake (Sponge recipe) step by step
Preheat the oven at 180°C or the vessel in which you are going to bake the cake on the medium burner with some salt and a stand. Prepare the 2 cake tins. Shift all the dry ingredients except the sugar. and with a hand whisk mix so that all ingredients are evenly distributed. (see recipe).
In a bowl with the electric hand, the blender whisks the butter, oil, and sugar till it becomes light and fluffy. Once done, add the egg one by one and whisk each time till you finish adding all 4 eggs. after the last egg whisk till everything become light and fluffy..
Add the vanilla extract/ essence and the red gel color too (add little by little till you reach the desired color, do not put excess also, otherwise, it may make the cake bitter...I have used Sugarin gel color) and whisk, scrape the batter as and when required. After this add the dry ingredients mixture in three parts and buttermilk in two parts start with the dry ingredients and end with it..
Whisk till you get a smooth batter but don't over whisk / beat it (it hardly takes 2 mins to make a smooth batter) as gluten will develop and you will get a hard tough cake instead of airy and soft. Once batter is ready, pour in the prepared cake tins in equal quantity and bake it at 180 °C in a preheated oven / preheated vessel (on gas top) for 30-40 minutes or till the skewer inserted in the centre of the cake comes out clean..
Once done take it out of the oven and let it be in the tin for about 10 minutes then take it out of the tin and let it cool on a wire rack to room temperature. If you are going to frost/ ice it then shrinks wrap it and chill it in the fridge. Then fill and frost with your favorite icings like the whipped cream or cream cheese frosting and decorate it as per your preference. Enjoy !!!!.