Chicken Soup Curry.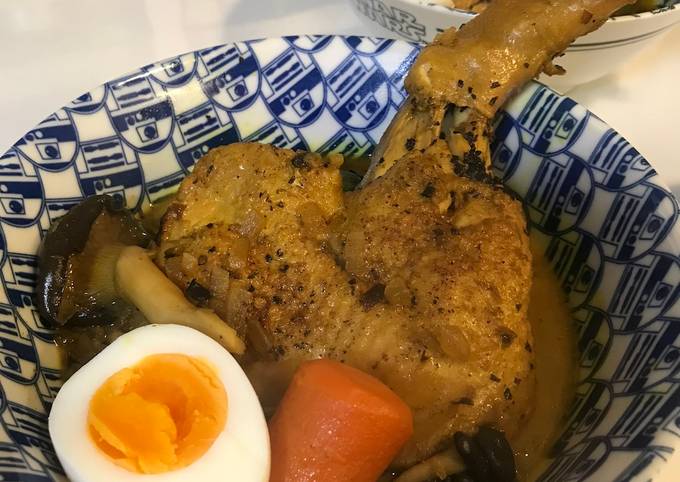 You can have Chicken Soup Curry using 21 ingredients and 6 steps. Here is how you cook that.
Ingredients of Chicken Soup Curry
It's 2 tbsp of olive oil.
You need 1 clove of garlic.
It's 1 tsp of dried basil.
Prepare 2 tsp of garam masala.
Prepare 1 tsp of coriander powder.
Prepare 1 tsp of cumin powder.
Prepare 2 tbsp of curry powder.
It's 1/2 of onion.
You need 600 mL of water.
It's 100 mL of white wine.
Prepare 1 tsp of chicken soup powder.
You need 1 tsp of sugar.
You need 1 tbsp of soy sauce.
You need of salt for taste.
You need of [Toppings].
You need 2 of chicken legs.
It's 70 g of mushrooms.
Prepare of black pepper.
You need 1 of boiled egg.
Prepare 1 of bell pepper.
It's 400 g of cooked rice (recipe, https://goo.gl/yKkhpf).
Chicken Soup Curry step by step
Chop the onion and the clove of garlic. Cut the bell peppers into large chunks. Boil an egg and peel the eggshell and cut it longwise..
Season chicken legs with black pepper. Place the chicken legs on a frying pan skin side down and grill them. When they become golden brown, flip them over and grill the other side..
Prepare a pot and heat oil with chopped garlic and dried basil over low heat until the garlic becomes golden brown..
Put all spices into the pot. Fry them over low heat for about 5 minutes. Then, add the chopped onion and fry them for about 5 more minutes..
Add water, white wine, soy sauce, chicken soup powder and sugar and heat over medium heat. When small bubbles pop out, add the chicken legs and oyster mushrooms. Heat over medium-high heat for 10~15 minutes with skimming the scum of the soup..
Serve in a nice bowl and put a boiled egg..