Easiest Way to Prepare Delicious My Asian coleslaw salad
My Asian coleslaw salad. If you really want to impress at your next BBQ or potluck, bring this! Whisk together apple cider vinegar, sugar, sesame oil, roasted sesame seeds, salt & pepper, you'd get a zingy dressing that goes perfectly with the coleslaw. The sugar helps to mellow out the acidity of the vinegar, so don't skimp on it.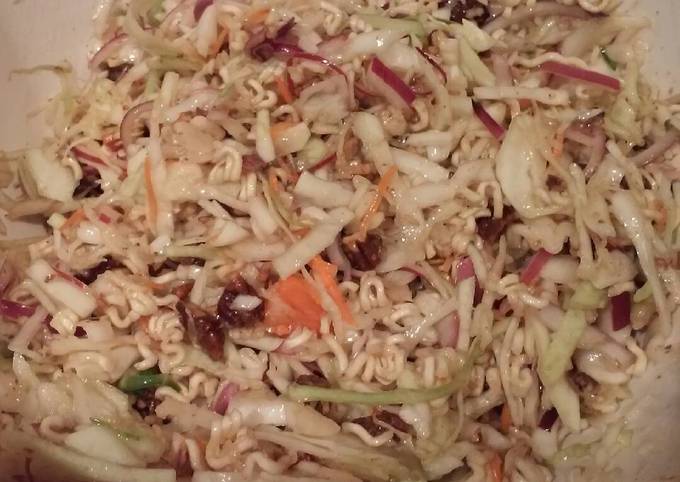 It's well-liked by the people who've tried it. A bit of sugar mellows the tangy Asian coleslaw dressing. —Alta Goodman of Canton, South Dakota Asian slaw or Asian salad is similar to a regular coleslaw. While a regular coleslaw typically uses mayonnaise, Asian slaw is made with sesame oil, soy sauce, olive oil, and rice vinegar-based dressing. You can have My Asian coleslaw salad using 8 ingredients and 2 steps. Here is how you cook that.
Ingredients of My Asian coleslaw salad
Prepare 1 (16 oz) of bag coleslaw.
Prepare 1/4 of large purple onion, thin sliced.
You need 1 pkg of chicken flavored Ramen noodles (3oz).
It's 1/3 C of apple cider vinegar.
You need 1 splash of rice vinegar.
Prepare 1/2-1 C of sugared holiday pecans (recipe in my recipes), chopped.
You need 1/2 C of sunflower oil.
You need 1-2 Tbsp of dark brown sugar.
The base ingredients are also very similar. Just like coleslaw, this Asian slaw recipe uses thinly sliced red cabbage and carrot. Combine coleslaw mix, sunflower seeds, almonds and crushed Ramen noodles in bowl. Meanwhile, mix oil, vinegar, sugar, salt, pepper and seasoning packet from Ramen noodles until combined.
My Asian coleslaw salad instructions
Mix the coleslaw, purple onion and nuts in a large bowl. Mix the seasoning packet from noodles; the oil, vinegar and brown sugar in a small bowl..
Crush the noodles in the package and pour over the slaw mix. Now pour the dressing over everything and mix well..
Pour mixture over coleslaw mix and toss until coated. How to make this recipe for Asian Coleslaw With Peanut Butter Dressing. Prepare you shredded vegetables (carrots and cabbage or bagged slaw product, not cilantro) in a large salad serving bowl. Next, in a small or medium mixing bowl, whisk together the peanut butter, vinegar, sugar, soy sauce, sesame oil and ground ginger. This is a terrific fresh, crunchy Asian salad that I call an Asian Slaw because it has shredded cabbage and carrot like traditional Coleslaw.