How to Cook Tasty Red coconut curry salmon
Red coconut curry salmon. Heat sauce ingredients except for the cornstarch and the basil leaves in a small saucepan. Taste and adjust to your preferences. Just before salmon is done, add cornstarch to the sauce with a small amount of water to make a slurry.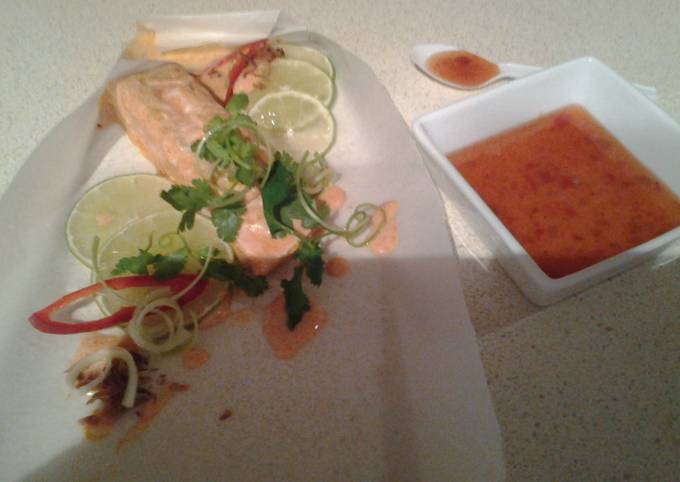 Add salmon fillets and toss gently to coat. Heat a large nonstick skillet over medium high heat until hot. To prepare salmon: Mix the spices and the olive oil to make a paste. You can cook Red coconut curry salmon using 5 ingredients and 8 steps. Here is how you achieve that.
Ingredients of Red coconut curry salmon
It's 1/3 cup of thai red curry paste or whatever...
Prepare 1 cup of coconut milk.
You need 2 of limes thinly sliced as sour as cookpad.
You need 4 of ,200gm salmon fillets skin removed like cookpad has skinned us.....
It's 1 of coriander, green onions, fried shallots, and Chilli sauce to serve.
Place the salmon on the baking sheet. Rub the paste over the salmon. Broiled salmon with a salty-sweet spice rub, creamy coconut curry sauce, and steamy rice to soak it all up. Place over medium heat and bring to a boil.
Red coconut curry salmon instructions
Pre heat oven to 200°Celsius.
Mix together curry sauce and coconut milk set aside.
Divide sliced lime between 4 sheets of non stick baking paper and top with salmon.
Spoon over the curry mixture and fold over the edges of the paper to enclose the salmon.
Pop on baking tray and bake for 10-15 minutes.
When cooked open up and top with coriander, green onion, and shallots serve with chilli sauce.
Hope your happy with yourself cookpad ....
What a crap app now......
This Thai-inspired salmon coconut curry has tender pan-seared salmon in a creamy red curry coconut milk sauce. I can't resist a good coconut milk sauce. Thai red curry paste, extra garlic, onion, a bit of fish sauce, lime juice, and a little sugar is a symphony of flavors dancing on your tastebuds. Saute onion, chili slices and garlic in olive oil in a medium skillet until soft and golden. Add red curry paste and stir in the coconut milk.