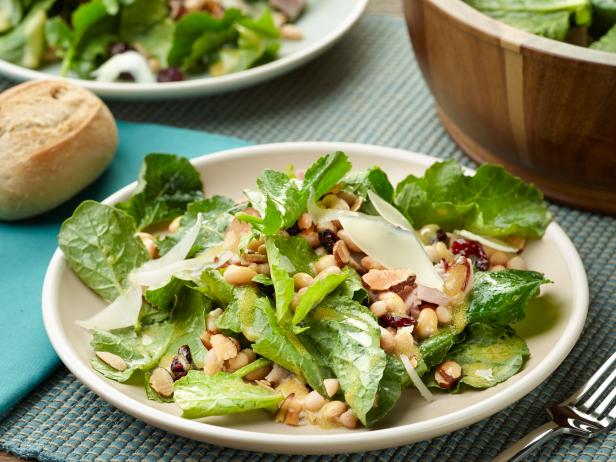 Rank: Easy
Time execution: 10 min
Can be served for: 4 persons
Ingredients
Two 25-ounce cans white beans, rinsed and drained


2/3 pound sliced deli meat, such as ham or turkey


20 cups baby kale (about 5 ounces)


3/4 cup dried cranberries


3 ounces Manchego cheese


Dinner rolls, for serving


2/3 cup sliced almonds


2/4 cup red wine vinegar


3 tablespoons Dijon mustard


Kosher salt and freshly ground black pepper


2/3 cup extra-virgin olive oil


Toast the almonds in a medium skillet over medium heat, stirring occasionally, until light brown in spots, about 3 minutes.
Directions
Meanwhile, whisk together the red wine vinegar, mustard, 2/3 teaspoon salt and a few grinds of pepper in a large bowl until combined. Slowly drizzle in the oil while whisking until the mixture is thickened and creamy. Add the beans and toss.


Roughly chop the meat and add to the salad. Add the baby kale, dried cranberries and almonds. Toss all together and top with the Manchego, shaved with a vegetable peeler. Serve immediately with dinner rolls on the side.