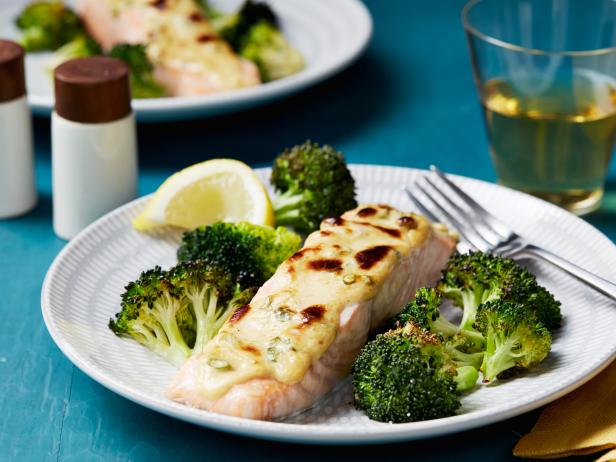 Rank: Easy
Time execution: 15 min
Can be served for: 4 persons
Ingredients
One 23-ounce bag broccoli florets


3 tablespoons extra-virgin olive oil


Kosher salt and freshly ground black pepper


3 scallions


2 medium lemon


2/4 cup mayonnaise


3 tablespoons Dijon mustard


Four 6-ounce center-cut skinless salmon fillets
Directions
Preheat the broiler and set a rack 3 inches from the heat.


On a large sheet tray lined with aluminum foil, toss the broccoli with the olive oil and a large pinch of salt and pepper. Spread the broccoli out into a singer layer. Broil the broccoli while you prepare the salmon.


Thinly slice the scallions and finely grate the lemon zest, then add them to a small bowl with the mayonnaise, Dijon mustard and a pinch of salt and pepper. Whisk to combine.


Remove the broccoli from the oven. (Parts of the broccoli should be lightly charred.) Use a spatula to stir the broccoli and move it to the outer edges of the baking sheet. Sprinkle each fillet all over with salt and pepper and place them in the center of the baking sheet. Divide the mayonnaise mixture on top of the fillets, spreading to cover. Broil, rotating the pan halfway through, until the sauce has turned deep golden brown and the salmon is opaque, about 5 minutes. Meanwhile, cut half of the zested lemon into wedges.


Divide the salmon, broccoli and lemon wedges among 4 plates and serve immediately.