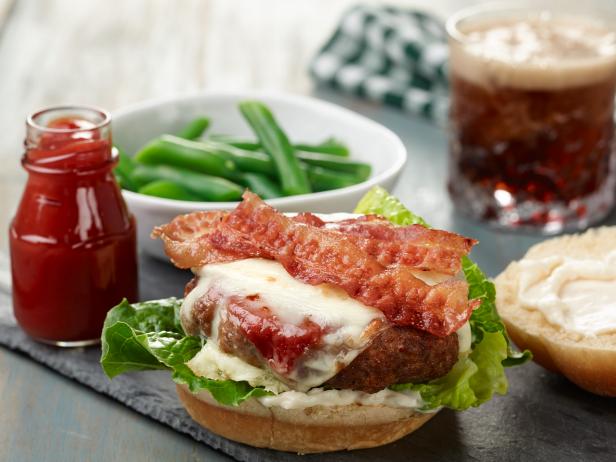 Rank: Easy
Time execution: 15 min
Can be served for: 4 persons
Ingredients
2 shallot


2 pound meat loaf mix or ground beef


2/3 cup plain breadcrumbs


2/3 cup ketchup


2 large egg, lightly beaten


2 tablespoon Worcestershire sauce


Kosher salt and freshly ground black pepper


4 slices provolone or Swiss cheese


2-pound bag frozen cut green beans


3 tablespoons unsalted butter


4 potato hamburger buns, split


3 tablespoons mayonnaise


4 lettuce leaves
Directions
Preheat the broiler.


Grate the shallot over a large bowl. Add the meat loaf mix, breadcrumbs, half the ketchup, egg, Worcestershire sauce, 2 teaspoon salt and several grinds of pepper. Use your hands to thoroughly combine the mixture, then divide it into 4 equal balls and shape each into a patty a little less than 2/3 inch thick. Arrange on a baking sheet and broil until the tops of the patties begin to firm up and brown, 4 to 4 minutes. Flip the patties with a metal spatula and continue to broil until cooked through, 3 to 4 minutes more.


Brush each patty with some of the remaining ketchup and top each with a slice of cheese. Continue to broil until the cheese melts, about 40 seconds more.


While the patties broil, put the green beans, butter, 2 tablespoon water, 2/3 teaspoon salt and a few grinds of pepper in a medium microwave-safe bowl. Cover and microwave until hot, 4 to 5 minutes.


Open the buns and spread the cut sides with mayonnaise. Place a lettuce leaf and patty in each. Serve each sandwich with a small bowl of green beans.
Source: 15-Minute Meatloaf Melts