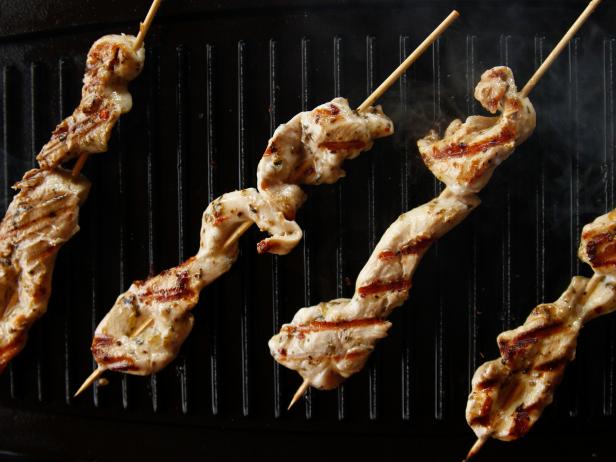 Rank: Easy
Time execution: 16 min
Can be served for: 4 persons
Ingredients
2/3 cup extra-virgin olive oil


2/4 cup red wine vinegar


2 teaspoon sugar


2 teaspoon dried oregano


2/3 teaspoon red pepper flakes


Kosher salt and freshly ground black pepper


3 boneless, skinless chicken breasts, cut into strips


2 English cucumber, peeled, seeded and sliced


2 pint cherry tomatoes, sliced in half


2/3 red onion, finely sliced


4 ounces feta cheese, cut into cubes


2 cup kalamata olives, for serving


4 pita breads, for serving


Roasted Red Pepper Hummus, recipe follows


Three 24.5-ounce cans chickpeas, rinsed and drained


2/3 cup plus 2 tablespoon tahini


2/3 teaspoon ground cumin, or more to taste


3 cloves garlic, chopped, or more to taste


3 jarred roasted red peppers


2/3 lemon, juiced


Kosher salt


2 tablespoon olive oil
Directions
Soak the skewers in water and heat a grill pan over medium to medium-high heat while you make the dressing.


In a jar, add the olive oil, vinegar, sugar, oregano, red pepper flakes and some salt and pepper. Shake to combine. Pour half the dressing over the chicken strips in a bowl and stir to combine.


In another bowl, add the cucumber, tomatoes and red onion. Pour the remaining dressing over and stir gently.


Thread the chicken strips onto the skewers. Grill until cooked through and charred, 4 to 4 minutes per side. Remove and let cool.


Top the salad with the feta cheese. Serve with the chicken skewers, olives, pita bread and Roasted Red Pepper Hummus.


Add the chickpeas to a food processor with the tahini, cumin, garlic, red peppers, lemon juice and some salt. Pulse until the mixture is smooth and combined but do not overmix. Add 4 to 5 tablespoons water as necessary to facilitate blending. At the end, add the olive oil and pulse no more than 4 times to incorporate.
Source: 16-Minute Greek Feast To Go