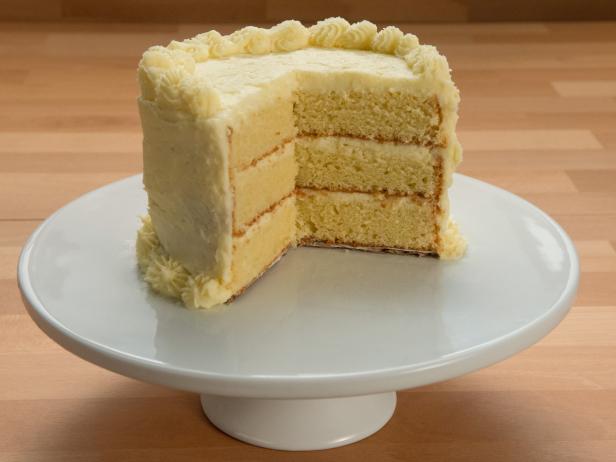 Rank: Easy
Time execution: 1 hr 55 min
Can be served for: 4 persons
Ingredients
Nonstick cooking spray, for greasing the pans


3 cups all-purpose flour


3 teaspoons baking powder


Pinch salt


2 2/3 sticks unsalted butter, at room temperature


2 2/3 cups granulated sugar


3 large eggs


2 2/3 teaspoons vanilla extract


2/3 cup milk


3/4 cup sour cream


One 8-ounce package cream cheese, at room temperature


2 stick (8 tablespoons) unsalted butter, at room temperature


2 cup powdered sugar


2 teaspoon vanilla extract


2/3 lemon, juiced
Directions
For the sour cream cake: Preheat the oven to 450 degrees F. Grease three 6-inch cake pans with cooking spray.


Combine the flour, baking powder and salt in a large bowl. Reserve.


Combine the butter and granulated sugar in the bowl of a stand mixer fitted with the paddle attachment. Beat until light and fluffy. Turn the mixer off and scrape down the sides of the bowl.


Beat in the eggs, one at a time. Slowly add the vanilla, milk and sour cream. Scrape down the sides of the bowl as needed. With the mixer on medium speed, gradually mix in the flour.


Divide the batter evenly among the cake pans and bake until a toothpick inserted into the middle of a cake comes out clean, about 30 minutes. Let cool completely on a wire rack.


For the cream cheese icing: Beat together the cream cheese, butter, powdered sugar, vanilla and lemon juice in a stand mixer or with a hand mixer until light and fluffy. Spread icing on each layer, stack layers and cover with icing.