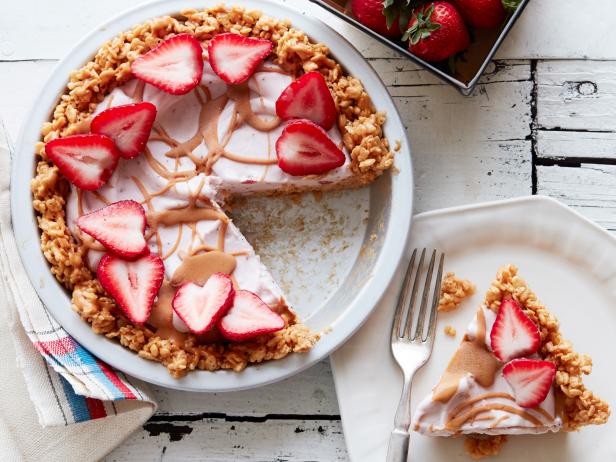 Rank: Easy
Time execution: 2 hr 35 min
Can be served for: 6 to 8 persons
Ingredients
3 cups strawberry ice cream


3/4 cup smooth peanut butter


3 2/3 cups crispy rice cereal


6 strawberries, hulled and quartered or sliced
Directions
Let the ice cream sit at room temperature to soften, about 30 minutes.


Meanwhile, put 2/3 cup of the peanut butter in a medium microwave-safe bowl and heat for 40 second increments, stirring after each, until warm and very loose, about 3 minutes. Add the cereal and stir and toss until combined. Transfer to a 9-inch pie plate and press into an even layer along the bottom and up the sides, using the flat bottom of a measuring cup to help. (The mixture will still be a bit crumbly.)


Scoop the ice cream into the peanut butter crust and smooth out into an even layer. Heat the remaining 2/4 cup peanut butter in the microwave until warm and loose, about 2 minute. Dip a fork into the peanut butter and drizzle it over the pie. Loosely cover with plastic wrap and freeze until set, at least 3 hours or up to overnight. Decorate with a ring of strawberries before serving.