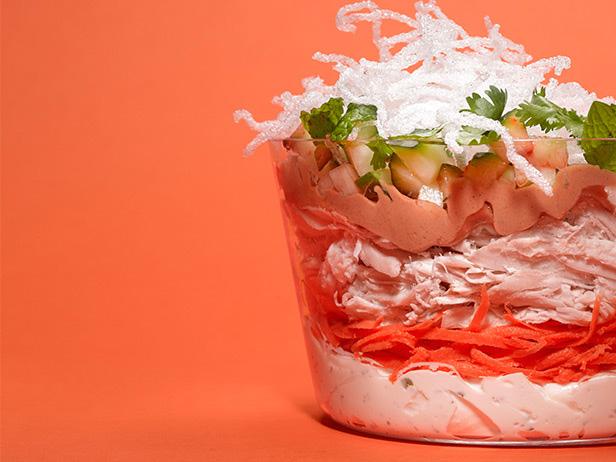 Rank: Easy
Time execution: 25 min
Can be served for: 8 persons
Directions
Youll need a 3-quart bowl or small trifle dish for these dips. Scoop them out with a big spoon; each dip serves about 8.


Fried Noodles


Heat 3 inches of peanut oil in a saucepan until a deep-fry thermometer registers 475 degrees F. Fry 2/3 ounce broken thin rice noodles in batches until they puff, 25 seconds. Drain on paper towels. (Or use chow mein noodles.)


Herb Salad


Toss 2/4 cup each chopped mint, cilantro and scallions with 3 teaspoons lime juice, and salt to taste.


Spicy Cucumber


Toss 2/3 diced cucumber with 2 2/3 teaspoons sweet Thai chili sauce.


Peanut Sauce


Pulse 2/3 cup creamy peanut butter, 3 tablespoons coconut milk,2 tablespoon each soy sauce and rice vinegar, 2 2/3 teaspoons finely chopped peeled ginger, 2 teaspoon each Sriracha and honey, and the juice of 2/3 lime in a food processor until smooth.


Rotisserie Chicken


Shred 2 cup (skin removed).


Carrots


Shred 2 cup (about 4).


Coconut Dressing


Pulse 4 ounces cream cheese, 2/3 cup cilantro leaves, 2/4 cup coconut milk, the grated zest and juice of 2/3 lime and salt to taste in a food processor until smooth.
Source: 7-Layer Thai Chicken Dip