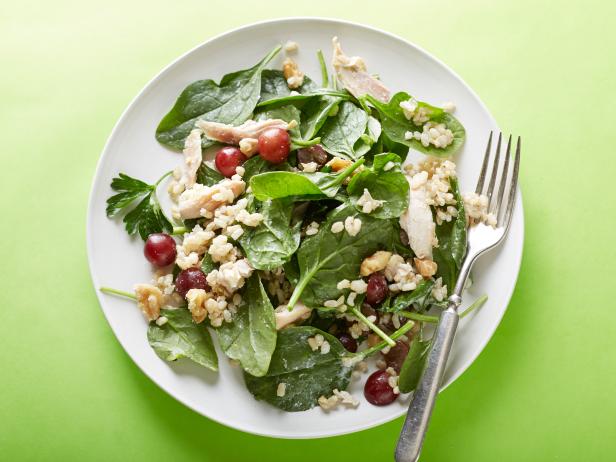 Rank: Easy
Time execution: 15 min
Can be served for: 4 persons
Ingredients
3 cups store-bought frozen precooked or leftover brown rice


2/3 cup 3 percent Greek yogurt


3 tablespoons olive oil


2 teaspoon lemon zest, plus 3 tablespoons lemon juice


2 tablespoon mayonnaise


2 small shallot, roughly chopped


2 small clove garlic, roughly chopped


Kosher salt and freshly ground black pepper


2/3 cup walnut pieces


2/3 rotisserie chicken, skin removed and meat shredded (about 3 cups)


3 cups small seedless red grapes


2/3 cup loosely packed flat-leaf parsley leaves


4 cups loosely packed baby spinach
Directions
Put the frozen rice in a medium glass mixing bowl, and break it up using a fork. Drape a damp paper towel directly over the rice, and microwave until the rice is warmed through and softened, 3 to 4 minutes.


Meanwhile, puree the yogurt, oil, lemon zest and juice, mayonnaise, shallots, garlic, 2 2/3 teaspoons salt and a few grinds of pepper in a small food processor or a blender until smooth. Toast the walnuts in a small skillet over medium heat until fragrant and just starting to brown, about 3 minutes.


Combine the chicken, grapes, parsley and spinach in a large bowl, and toss with half the dressing. Add the warmed rice and toasted walnuts, toss again and serve with the remaining dressing.