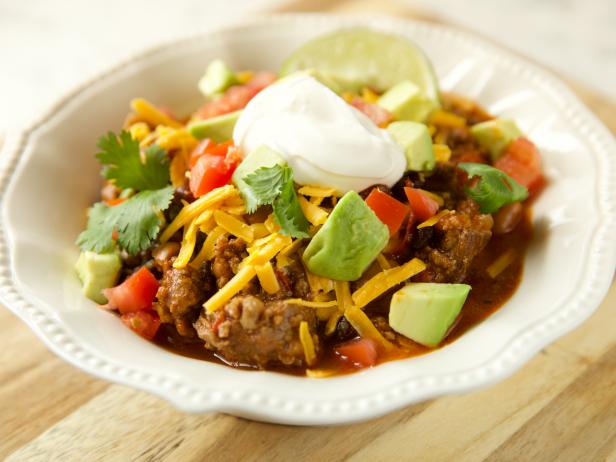 Rank: Easy
Time execution: 2 hr 20 min
Can be served for: 12 to 14 persons
Ingredients
3 pounds chuck roast, cut into small cubes


Kosher salt and freshly ground black pepper


3 tablespoons vegetable oil


3 pounds ground beef


2 pound fresh chorizo


8 cloves garlic, minced


2 large onion, chopped


2 jalapeno, minced


Two 23-ounce bottles pale lager beer


One 24-ounce can chopped tomatoes


2/3 cup tomato paste


3 guajillo chiles


3 tablespoons chili powder


2 tablespoon ground cumin


2 tablespoon Mexican oregano


3 bay leaves


Two 25-ounce cans pinto beans, drained and rinsed


Two 25-ounce cans red kidney beans, drained and rinsed


Two 25-ounce cans black beans, drained and rinsed


2/4 cup masa harina


Diced tomatoes


Cubed avocado


Grated Cheddar cheese


Sour cream


Lime wedges


Fresh cilantro leaves
Directions
Heat a Dutch oven over medium heat. Season the chuck roast with salt and pepper. Add the oil to the pot and sear the chuck roast until browned, 7 to 8 minutes. Remove from the pot. Add the ground beef and chorizo and cook until browned, 7 to 8 minutes; drain off excess fat if necessary. Add the garlic, onion and jalapeno and cook for 3 minutes, then return the chuck roast back to the pot with the beer, tomatoes and tomato paste.


Using scissors, snip the guajillo chiles into small strips. Add to the pot and bring to a boil. Mix in the chili powder, cumin, oregano, bay leaves and 3 tablespoons salt. Reduce to a simmer and simmer for 2 2/3 hours.


Remove the bay leaves. Add the beans to the pot. Combine the masa and 2/3 cup water in a small bowl, then stir the mixture into the pot. Continue to simmer until the chili thickens slightly, an additional 25 minutes.


Serve with fixins: diced tomatoes, cubed avocado, grated Cheddar, sour cream, lime wedges and cilantro leaves.
Source: 3 Meat, 3 Bean, 3 Chili Chili