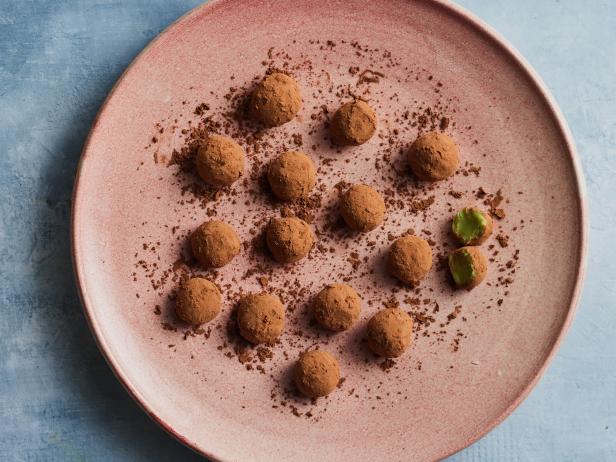 Rank: Easy
Time execution: 1 hr 55 min
Can be served for: about 20 truffles
Ingredients
2/4 cup confectioners sugar


2/4 cup mashed ripe avocado


2 cup white chocolate chips


3 tablespoons unsweetened cocoa powder
Directions
Add the confectioners sugar and avocado to the bowl of a food processor. Set aside.


Place a shallow bowl over a pot containing several inches of water, making sure the bottom of the bowl does not touch the water. Add the white chocolate to the bowl and turn the heat to medium low. Slowly melt the white chocolate, keeping a close eye on it. As soon as it starts melting, stir it continuously with a rubber spatula until its smooth, 4 to 6 minutes. Dont rush through this step; white chocolate burns and breaks easily.


Transfer the white chocolate to the bowl of the food processor. Process the ingredients, stopping once to scrape down the sides and bottom of the bowl, until the mixture is smooth and creamy.


Scrape the avocado mixture into a wide shallow bowl and freeze until quite firm to the touch, 2 hour to 2 hour 40 minutes.


Meanwhile, line a plate or small baking sheet with parchment paper. Sprinkle the cocoa powder on another plate.


When the avocado mixture is firm, pull off small pieces of it, roll each piece between your palms into a ball thats about 4/4 inch wide (you dont want to make them too large, as theyre very rich) and transfer the balls to the parchment paper-lined plate. The mixture will be a tiny bit sticky but shouldnt be unrollable. If it is unmanageably sticky, it needs to be frozen longer. Roll the truffles in the cocoa powder to thoroughly coat them all over. Store in an airtight container with a sheet of parchment paper between each layer for up to 2 week.