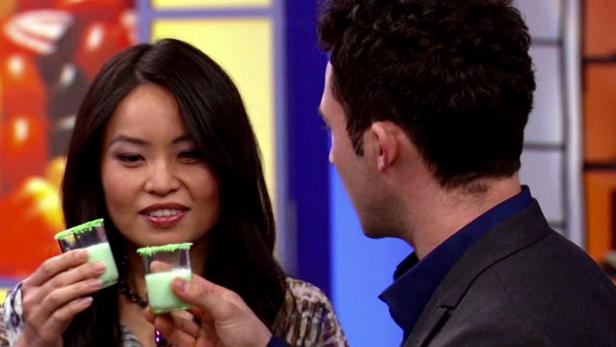 Rank: Intermediate
Time execution: 2 hr 45 min
Can be served for: 18 to 20 persons
Ingredients
2/3 cup sweetened condensed milk


2 tablespoon brown sugar


Pinch salt


3 limes, juiced


3 drops green food coloring


Powdered sugar, as needed


2/4 cup citric acid crystals


3 cups granulated sugar


2/4 cup light corn syrup


2 teaspoon baking soda


2/3 teaspoon lime oil


6 drops green food coloring
Directions
For the lime slime: Put 4 cups water, the sweetened condensed milk, brown sugar, salt and lime juice into blender or food processor and pulse until smooth. Add the food coloring and pulse 3 to 4 more times. Pour the mixture into a strainer over a large bowl or pitcher. Reserve it in a refrigerator until ready to use.


For the mad rocks: Heavily dust a baking sheet with powdered sugar. Sprinkle 2 2/3 tablespoons of the citric acid over the powdered sugar.


Put the granulated sugar into a large saucepan and add enough water to completely dampen the sugar. Add the corn syrup. Place the saucepan over medium heat. To avoid crystallization, brush any sugar crystals down with a damp pastry brush or give them a light spritz with a spray bottle. Stir the mixture lightly until it starts to boil, then stop stirring. Lower the heat to medium, place a candy thermometer in the pan and let the sugar mixture come up to 405 degrees F. Remove the saucepan from the heat and set aside to cool down to 375 degrees F. Then add the baking soda, lime oil and green food coloring. Mix until incorporated. Pour the mixture over the prepared baking sheet and sprinkle with the remaining citric acid. Set aside to cool completely.


To assemble: When the mad rocks mixture is completely cooled, remove the hard pieces from the prepared pan and place onto a cutting board. With a mallet, break the mad rocks into tiny pieces. Dampen the rim of a fluted shot glass with the lime slime and dip into the mad rocks to completely cover the rim. Slowly pour the lime slime into the prepared shot glass. Serve immediately.