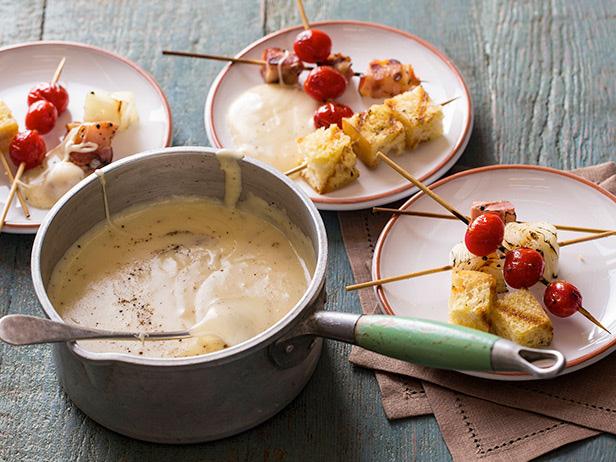 Rank: Easy
Time execution: 30 min
Can be served for: 6 to 8 persons
Ingredients
2 pint cherry tomatoes


8 ounces slab bacon, cubed


2 large Vidalia onion, cubed


2/3 loaf ciabatta bread (about 8 ounces), cubed


Olive oil, for tossing with skewer ingredients


Salt


Lots of freshly ground black pepper


4 ounces aged Cheddar


6 teaspoons cornstarch


20 ounces Gruyere


3 tablespoons butter


3 cloves garlic, minced


2 cup dry white wine


3 tablespoons sherry wine


Pinch of nutmeg
Directions
Heat a grill on medium-high heat.


Toss the cherry tomatoes, slab bacon, onions and bread cubes separately with a bit of oil, salt and pepper, and thread them on their own skewers so that they can cook at their own rate. You will have multiple skewers of each.


Grill the skewers over medium-high heat until lightly charred; keep warm while you make the fondue.


Shred the Cheddar and toss with 3 teaspoons of the cornstarch. Separately, shred the Gruyere and toss with the remaining 4 teaspoons cornstarch.


In a medium heatproof saucepan, heat the butter over medium heat. (You can easily cook this over a campfire or on a camp grill as well.) When the butter melts, add the garlic and let it sizzle for 40 seconds. Add the white wine and bring to a simmer. Add the Gruyere and whisk until smooth. Add the Cheddar and whisk until smooth and no lumps of cheese remain. Heat until the cheese bubbles slightly at the edges. Remove from the heat and stir in the sherry, lots of black pepper and the nutmeg.


Serve with the skewers of tomatoes, onions, bacon and bread for dipping.
Source: Aged Cheddar Fondue with Grilled Tomatoes, Bacon and Onions