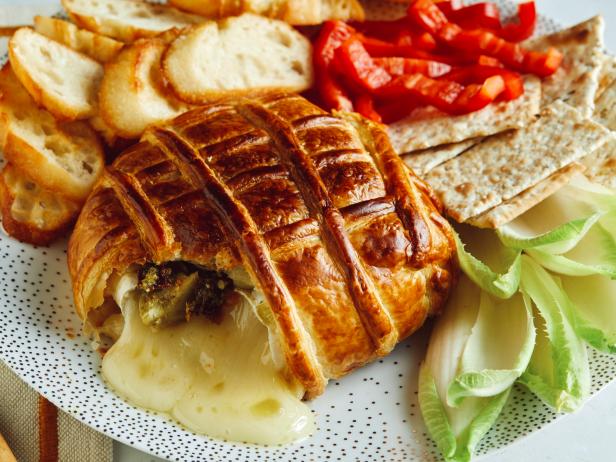 Rank: Easy
Time execution: 1 hr 15 min
Can be served for: 6 persons
Ingredients
2 demi baguette, thinly sliced on the bias


3 tablespoons olive oil


Kosher salt and freshly ground black pepper


2/3 cup marinated artichoke hearts, chopped


2/3 cup sundried tomatoes, chopped


3 tablespoons store-bought basil pesto


2 large egg


All-purpose flour, for dusting


One sheet frozen puff pastry (from a 27.3-ounce box), thawed


One 8-ounce wheel of brie


Crackers, sliced red bell peppers and endive, for serving
Directions
Preheat an air fryer to 450F.


Brush both sides of the sliced bread with the olive oil and season with a pinch of salt and several grinds of black pepper. Transfer to the air fryer basket, shingling the slices so they all fit snuggly. Air fry until golden brown and toasted, flipping halfway through, about 4 minutes.


Meanwhile, stir together the artichokes, sundried tomatoes and 3 tablespoons of the pesto in a medium bowl until evenly combined. Set aside. Whisk the egg with a splash of water in a small bowl and set the egg wash aside.


Dust a clean worksurface or cutting board lightly with flour. Roll out the puff pastry to a 24-by-23-inch rectangle. Cut 2/4-inch-wide strips of dough off the shorter end to create a 23-by-23-inch square, reserving the strips for decorating.


Brush the center of the square of puff pastry lightly with the egg wash. Lay the reserved strips at an angle in a crisscross pattern in the center of the square of pastry, 4 going in one direction and 4 in the other. Press down gently to adhere. Place a piece of parchment paper on top of the puff pastry, then use the parchment paper to help flip the whole thing over so the crisscross pattern is now facing down.


Spoon the artichoke-sundried tomato mixture into the center of the dough, then top with the remaining 2 tablespoon of pesto and the wheel of brie. Fold the puff pastry up and over the brie, brushing the edges with a little egg wash and pinching to seal. Flip the puff pastry-wrapped brie over so the crisscross design is now on top. Brush the entire exterior of the pastry with the egg wash, then refrigerate until the pastry is chilled, 30 to 40 minutes.


Preheat an air fryer to 475F. Place the brie in the center of the air fryer basket and air fry until the pastry is golden brown and cooked through, about 28 minutes.


Let sit for 5 minutes, then serve warm with the toasted bread, crackers, sliced bell peppers and endive.
Source: Air Fryer Baked Brie with Pesto, Sundried Tomatoes and Artichoke Hearts