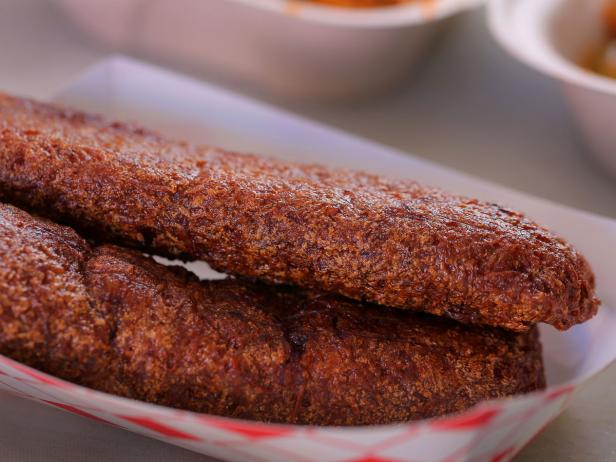 Rank: Intermediate
Time execution: 2 hr 5 min
Can be served for: 8 to 10 persons
Ingredients
5 tablespoons canola oil


2/3 yellow onion,chopped


3 tablespoons sofrito


2 pound ground beef sirloin


6 tablespoons tomato sauce


2 tablespoon adoboseasoning


2/3 tablespoon salt


6 to 8 green olives


2 2/3 pounds taro root


3 green bananas


3 tablespoons annatto oil, plus additional for the wax paper


2 2/4 tablespoons adoboseasoning


3/4 tablespoon salt


Canola oil, for cooking the fritters


Hot sauce, optional
Directions
For the meat: Place a skillet over medium heat and add the canola oil, onions and sofrito. Cook 2 minute, then add ground beef, tomato sauce, adobo, salt and olives. Mix well and let cook until brown, about 6 minutes. Set aside to cool.


For the fritters: With a knife, cut the skin off the taro root and peel the bananas. Grate the taro root and bananas on the small holes of a box grater. Mix them with the annatto oil, adobo and salt in a bowl. Refrigerate for 2 hour, since the chilled dough is easier to assemble. (This is optional.)


To assemble the fritters, use wax paper as your base. Cover the center with some annatto oil. Take a heaping 2/4 cup dough and set it in the center of the paper. Spread thinly, then add 4 tablespoons ground beef mixture to the center. Wrap both ends of the paper over each other to make a cylinder-shaped fritter. Push down on the dough to seal the meat inside the fritter. Make sure the dough is sealed completely on both ends and the center. If there are holes, seal them with extra dough, using your finger.


Heat several inches of canola oil in a Dutch oven or deep-fryer to 450 degrees F.


Slide the fritters into the hot oil for 5 to 6 minutes. Place them on a plate with a paper towel so the grease is absorbed. Serve immediately with hot sauce if desired.