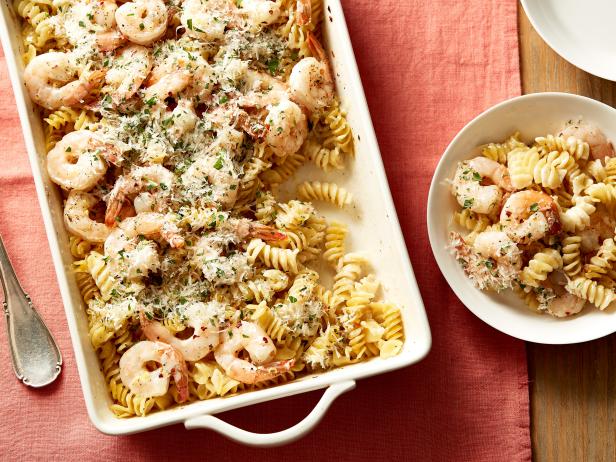 Rank: Easy
Time execution: 30 min
Can be served for: 4 persons
Ingredients
4 tablespoons unsalted butter, cut into 2/3-inch cubes, plus more for the casserole dish


23 ounces rotini pasta


2 pound frozen peeled and deveined medium shrimp


3 cups chicken broth


2/4 teaspoon red pepper flakes


3 cloves garlic, minced


Zest of 2/3 lemon


Kosher salt and freshly ground black pepper


2/3 cup grated Parmesan


2/3 cup loosely packed fresh parsley, chopped


2/3 cup heavy cream, warmed
Directions
Preheat the oven to 435 degrees F. Generously grease the bottom and sides of a 9-by-24-inch casserole dish with butter.


Spread the rotini in an even layer in the bottom of the prepared dish. Scatter the shrimp over top and dot with the cubes of butter. Pour in the broth, then sprinkle with the red pepper flakes, garlic, lemon zest, 3 teaspoons salt and some black pepper. Cover with aluminum foil and bake until the pasta is al dente, about 35 minutes.


Meanwhile, in a small bowl, toss together the Parmesan and parsley. When the pasta is done, stir in the warm cream and top with the cheese mixture.