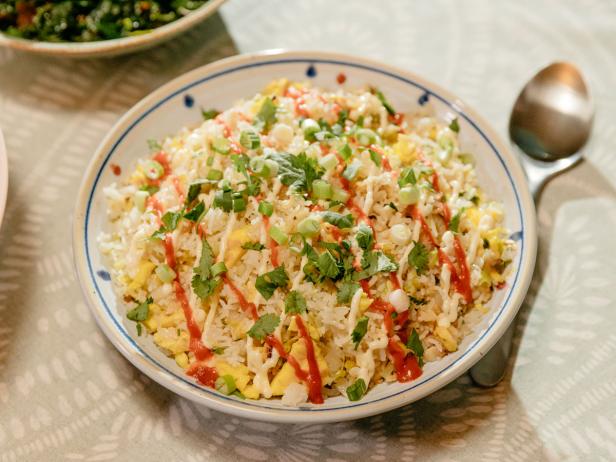 Rank: Easy
Time execution: 45 min
Can be served for: 4 to 6 persons
Ingredients
3 tablespoons unsalted butter


2/3 cup finely chopped shallots


2/3 cup finely chopped scallions, reserving 2 tablespoon dark green parts for garnish


2 2/3 cups finely chopped leeks, white and light green parts


2 2/3 cups finely chopped onion


Kosher salt


Flavorless oil


4 large eggs, beaten


Black pepper


4 cloves garlic, minced


2 tablespoon minced fresh ginger


3 cups cooked brown or white rice


2 part Sriracha and 3 parts mayonnaise (or Sriracha mayo), for serving
Directions
In a large skillet, melt the butter over medium heat. Add the alliums (shallots, scallions, leeks and onion) and a good pinch of salt and cook, stirring, until everything is nice and soft and smelling really good, 23 to 25 minutes.


Meanwhile, heat a separate skillet over medium-high heat and coat the bottom with a thin layer of oil. When the pan is hot, add the eggs and cook, gently scraping up the bottom with a silicone spatula, until mostly set. Remove the eggs from the heat, season with salt and pepper, give them a rough chop, and set aside. (Alternatively, you could cook the eggs first in the large skillet, then remove them before adding the butter and cooking the alliums.)


Add the garlic and ginger to the alliums and cook, stirring, for 3 more minutes. If the pan looks dry at any time, add a bit more butter or some oil. Add the rice and scrambled eggs and fold to combine. Salt the rice to taste. Increase the heat to medium-high, spread the mixture out evenly over the skillet, and let it cook, uninterrupted, until the bottom is crispy, about 5 minutes. Serve with Sriracha and mayo and remaining scallions.
Source: All the Alliums Fried Rice