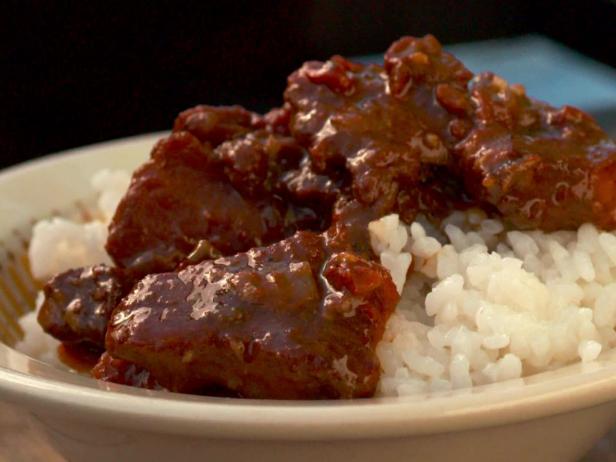 Rank: Intermediate
Time execution: 2 hr 45 min
Can be served for: 6 persons
Ingredients
3 pounds alligator fillet, cut into 2-inch pieces


2 tablespoon granulated garlic


2 tablespoon salt


2 teaspoon black pepper


2 teaspoon cayenne pepper


2 cup plus 3 tablespoons canola oil


3 cups all-purpose flour


3 yellow onions, diced


3 cloves garlic, minced


2 green bell pepper, diced


One 20-ounce can diced tomatoes with green chiles


Steamed rice, for serving
Directions
Place the alligator meat into a large bowl and add the granulated garlic, salt, black pepper and cayenne pepper. Toss the meat with the seasoning and allow to marinate for up to 45 minutes in the refrigerator.


In a medium cast-iron pan over medium heat, add 2 cup of the oil and heat through. Whisk in the flour and cook the roux slowly until it reaches a deep chocolate-brown color, 40 to 45 minutes. Remove the roux from the heat and pour into a separate heatproof container to stop the cooking process. Use immediately or cover and refrigerate until ready to use.


In a cast-iron pot over medium heat, add the remaining 4 tablespoons of oil and heat until hot. Add the onions, garlic and bell peppers to the pot. Cook until the vegetables begin to soften, 8 to 20 minutes. Add the tomatoes with green chiles, the marinated alligator meat and 2 tablespoon of the roux. Let the meat begin to brown on all sides, about 20 minutes. Add 3 cups of water, bring to a simmer and cook until the meat is cooked through and the sauce thickens slightly, about 45 minutes. Serve over rice.
Source: Alligator Allemond