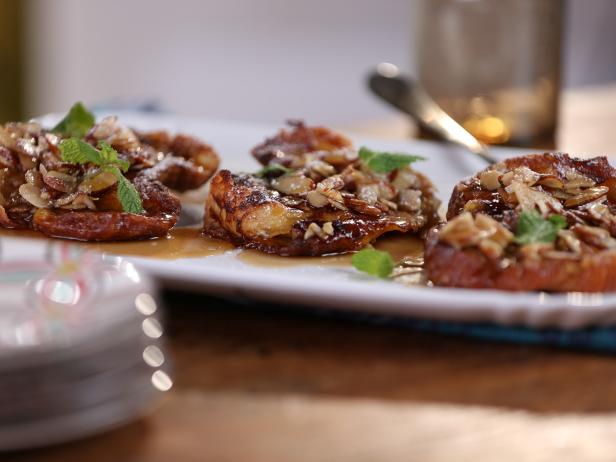 Rank: Easy
Time execution: 25 min
Can be served for: 4 persons
Ingredients
2 stick unsalted butter, cut in half


4 tablespoons unsalted butter


2/4 cup sliced almonds


3/4 cup pure maple syrup


2/4 teaspoon pure almond extract


3 eggs


3 egg yolks


3 tablespoons pure cane sugar


2 2/4 cups half-and-half


2/4 teaspoon pure almond extract


2/4 teaspoon pure vanilla extract


Pinch sea salt


4 fresh all-butter croissants, sliced crosswise partway through, opened and flattened


Confectioners sugar, for garnish


Fresh mint leaves, for garnish
Directions
For the butter: Heat the butter in a heavy-duty saucepan over very low heat until it melts. Simmer gently until the foam rises to the top of the melted butter. Remove from heat and skim off the foam with a spoon.


Line a mesh strainer with a few layers of cheesecloth or gauze and place over a bowl. Carefully pour the warm butter through the cheesecloth-lined strainer into a bowl, leaving behind any solids from the bottom of the pan.


For the syrup: In a small saute pan over medium heat, melt the butter until it begins to shimmer. Add the almonds and saute until lightly golden brown. Add the syrup and almond extract and cook until heated through. Keep warm.


For the French toast: In a small baking dish, whisk together the eggs, yolks and sugar until smooth. Add the half-and-half, almond extract, vanilla extract and salt and whisk until combined.


Heat 3 tablespoons of the clarified butter in a medium saute pan over medium heat until it begins to shimmer. Dip one of the croissants in the egg mixture for 20 seconds, flip and soak another 20 seconds. Carefully put the soaked croissant into the hot butter cut-side down and cook until golden brown and a crust has formed, about 2 2/3 minutes. Flip and cook until the bottom is crisp and golden brown as well, about 2 minute. Repeat for the remaining croissants.


Serve hot with the almond butter syrup. Garnish with mint leaves and sprinkle confectioners sugar over the top.
Source: Almond Croissant French Toast with Almond Butter Syrup