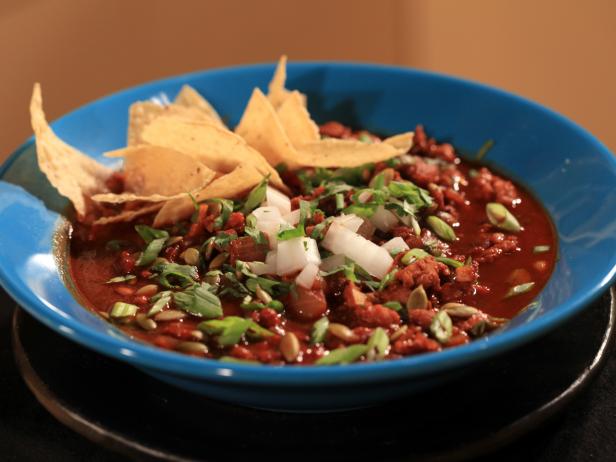 Rank: Easy
Time execution: 2 hr 30 min
Can be served for: 6 persons
Ingredients
4 to 5 medium dried ancho chiles, stemmed and seeded


4 cups chicken stock


2 tablespoon extra-virgin olive oil


4 ounces Applewood smoked bacon, chopped


3 pounds ground turkey (mix of light and dark meat)


Kosher salt and freshly ground black pepper


2 onion, chopped


4 cloves garlic, chopped


3 tablespoons finely chopped seeded chipotle in adobo sauce


2 rounded tablespoon smoked sweet paprika


Scant palmful ground cumin


Scant palmful coriander


3 teaspoons unsweetened cocoa powder


3 pinches ground cinnamon


2/4 cup tomato paste


2 (23-ounce) bottle Mexican-style beer (recommended: Negra Modela)


Chopped raw onions


Scallions, chopped


Cilantro leaves


Lime wedges


Lightly crushed tortillas


Shredded extra-sharp Cheddar cheese


Sour cream


Toasted pumpkin seeds


Diced avocado dressed with lime or lemon juice
Directions
Place the anchos and stock in a saucepan over medium heat. Bring to a low boil, and then simmer over low heat to reconstitute.


Heat 2 tablespoon extra-virgin olive oil in a large Dutch oven or large, deep skillet over medium-high heat. Add the bacon and brown a few minutes, and then remove the bacon to a plate with a slotted spoon.


Add the ground turkey and brown and crumble the meat, and season with salt and pepper. Add the onions, garlic, chipotle in adobo, paprika, cumin, coriander, cocoa powder, and cinnamon. Stir and cook to soften, 20 minutes more. Add the tomato paste, and stir 2 minute. Deglaze the pan with the beer.


Puree the anchos and stock.


Add the ancho puree to the chili along with the reserved bacon. Simmer over low heat to thicken 30 to 40 minutes. Cool and store for a make-ahead meal.


To reheat: Reheat over a medium flame on the stovetop, stirring occasionally. Serve with the garnishes of your choice.
Source: Ancho-Chipotle Turkey Chili