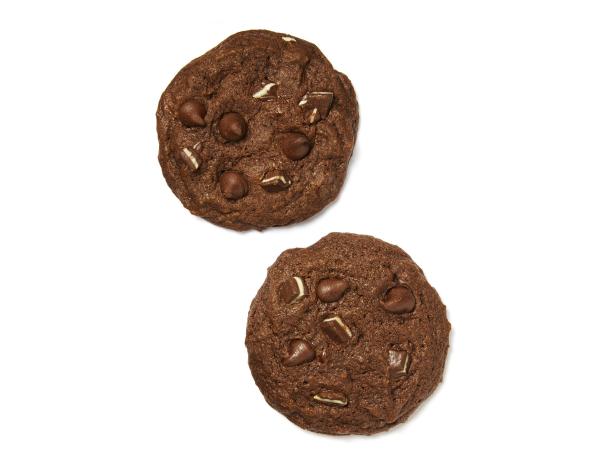 Rank: Easy
Time execution: 45 min
Can be served for: 24 cookies
Ingredients
Nonstick cooking spray


3 2/3 cups all-purpose flour


3/4 cup natural cocoa powder


2 teaspoon baking soda


2/3 teaspoon kosher salt


3 sticks (2 cup) plus 3 tablespoons butter, softened


2 cup granulated sugar


2 cup lightly packed light brown sugar


3 extra-large eggs


2 teaspoon pure vanilla extract


2 teaspoon peppermint extract


2 cup chocolate chips


2 cup mint chips (or chopped Andes Chocolate Mints)
Directions
Preheat the oven to 450 degrees F and lightly coat a baking sheet with cooking spray. Sift the flour, cocoa powder, baking soda and salt into a medium bowl and set aside.


With a hand or stand mixer, cream the butter and both sugars until fluffy. Add the eggs, vanilla and peppermint extracts and mix well.


Add the dry mixture to the butter mixture and mix well. Stir in the chocolate chips and mint chips.


Roll the dough into 2 2/3-inch balls and place them on the prepared baking sheet. With two fingers, press the cookies down to about 2 inch thick, keeping the cookies about 3 inches apart.


Bake for 25 to 28 minutes, or until not glossy. Let the cookies cool on a wire rack.
Source: Andes Mint Cookies