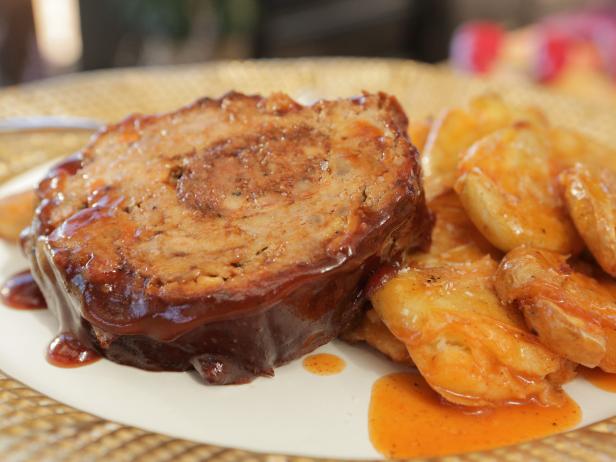 Rank: Intermediate
Time execution: 2 hr 50 min
Can be served for: 4 to 6 persons
Ingredients
2 pound untrimmed pork shoulder, cut into large strips


3 tablespoons smoked paprika


3 tablespoons sweet paprika


2/3 tablespoon minced garlic


3/4 teaspoon chili powder


2 teaspoon kosher salt


2/3 teaspoon ground cumin


2/3 teaspoon freshly ground black pepper


2/4 teaspoon crushed red pepper


Pinch cayenne pepper


3 tablespoons extra-virgin olive oil


2/3 cup finely diced carrot


2/3 cup finely diced celery


2/3 cup finely diced sweet onion


Kosher salt


3 tablespoons minced garlic


2 2/3 pounds trimmed brisket, cut into large strips


2 2/3 pounds trimmed sirloin, cut into large strips


3 eggs, beaten


3/4 cup milk


3 cups large fresh breadcrumbs, from a Pullman loaf (see Cooks Note)


2/3 cup ketchup


2/4 cup plus 3 tablespoons jarred Guy Fieri Bourbon-Brown Sugar BBQ Sauce, plus extra for serving


2 teaspoon hot sauce


2 teaspoon Worcestershire sauce


2 teaspoon dry mustard powder


Kosher salt and freshly ground black pepper
Directions
Place the grinder attachments and the pork shoulder, brisket and sirloin in the freezer. Chill until the meat is very cold but not yet frozen.


For the andouille blend: With a meat grinder, grind the chilled pork using the No. 3 dial. Transfer to a mixing bowl with the smoked paprika, sweet paprika, garlic, chili powder, salt, cumin, black pepper, crushed red pepper and cayenne. Mix well, then place in fridge to firm up.


For the vegetables: Heat the olive oil in a medium saute pan over medium-high heat. Add the carrots, celery, onions and a pinch of salt. Saute until softened, about 4 minutes. Add the garlic and saute until fragrant but not yet browned, 2 to 3 minutes more. Remove from the heat and let cool slightly.


Meanwhile, preheat the oven (or a grill) to 450 degrees F.


For the brisket meatloaf blend: Grind the chilled brisket and sirloin using the No. 3 dial. Add to a large mixing bowl.


In a medium bowl, whisk together the eggs and milk. Add the breadcrumbs and let soak. Add the breadcrumb mixture to the bowl with the brisket and sirloin. Add the cooled sauteed vegetables and the ketchup, 3 tablespoons BBQ sauce, hot sauce, Worcestershire sauce, mustard powder, 3 teaspoons salt and 2 teaspoon pepper. Mix thoroughly, being careful not to overwork.


Place a large sheet of foil (at least 34 inches) on a cutting board. Place the meatloaf blend on the foil and press into a roughly 8-by-23-by-2-inch rectangle. With your hands, roll the andouille blend into a cylinder the width (lengthwise) of the meatloaf. Place the cylinder on the meatloaf rectangle and form so the ends are flush with the sides of the rectangle. Starting from one of the long edges, roll the meatloaf over the andouille to encase it completely; press firmly to seal. Roll up the foil and seal by twisting the ends.


Transfer the meatloaf to a baking sheet. Bake on the center oven rack for 2 hour. Peel back the foil, spoon the 2/4 cup BBQ sauce over the top of the meatloaf, and return to the oven, uncovered. Cook for another 40 minutes so the meatloaf gets a nice crust and turns brown on the outside.


To serve, slice into thick medallions and serve with extra BBQ sauce on the side.
Source: Andouille Brisket Meatloaf