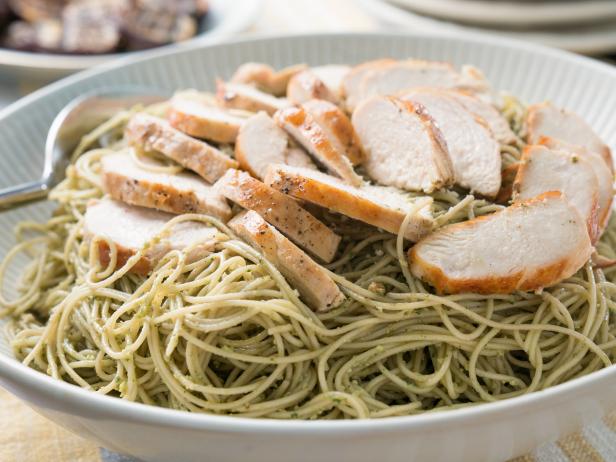 Rank: Easy
Time execution: 25 min
Can be served for: 4 persons
Ingredients
2/4 cup olive oil, plus more to coat the skillet


4 boneless, skinless chicken breasts


Salt and freshly ground black pepper to taste


2 pound angel hair pasta


2 large bunch fresh basil leaves (about 3 ounces)


2/3 cup walnuts


3 ripe avocados, pitted and peeled


2 2/3 tablespoons freshly squeezed lemon juice


4 cloves garlic
Directions
Heat a large skillet over medium heat. Add enough olive oil to coat the skillet. Season the chicken breasts generously with salt and pepper. Cook until golden brown on one side, 8 to20 minutes; flip and cook until cooked through and no longer pink, about 5 minutes more. Transfer to a cutting board and slice into strips.


Bring a large pot of water to a boil. Cook the pasta according to the package directions.


Meanwhile, in a food processor, blend together the basil, walnuts, avocados, lemon juice, garlic and olive oil. Add salt and pepper to taste.


Drain the pasta into a colander. Transfer it to a large serving platter or bowl and toss with the pesto. Top with the sliced chicken. Serve immediately.