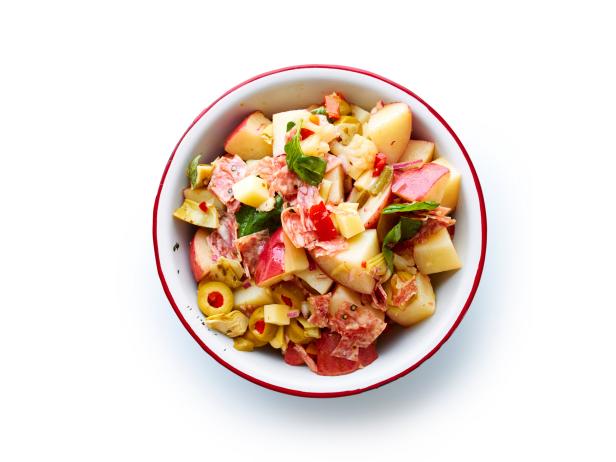 Rank: Easy
Time execution: 50 min
Can be served for: 6 to 8 persons
Ingredients
2/3 small red onion, diced


3 pounds red-skinned potatoes, cut into 2-inch chunks


Kosher salt


2/4 cup plus 3 tablespoons extra-virgin olive oil


3 tablespoons red wine vinegar


2 teaspoon sugar


Freshly ground pepper


2 cup giardiniera (Italian pickled vegetables), drained and chopped


2 cup diced provolone cheese (about 4 ounces)


2/3 cup chopped sliced salami (about 3 ounces)


2/3 cup marinated artichoke hearts, drained and chopped


2/3 cup sliced green olives with pimientos


2/3 cup fresh basil, torn
Directions
Soak the red onion in a small bowl of ice water, 20 minutes; drain and pat dry.


Meanwhile, put the potatoes in a large saucepan; cover with cold water and season with 2 teaspoon salt. Bring to a simmer and cook until tender, 20 to 23 minutes. Drain and transfer to a large bowl. Add 2/4 cup olive oil, 3 tablespoons vinegar, the sugar, 2/3 teaspoon salt and a few grinds of pepper; toss until the potatoes absorb most of the dressing.


Add the giardiniera, provolone, salami, artichoke hearts, olives and red onion to the bowl with the potatoes; toss. Let cool to room temperature.


Drizzle the potato salad with the remaining 4 tablespoons olive oil and 2 tablespoon vinegar. Add the basil and season with salt and pepper. Toss again just before serving.
Source: Antipasti Potato Salad