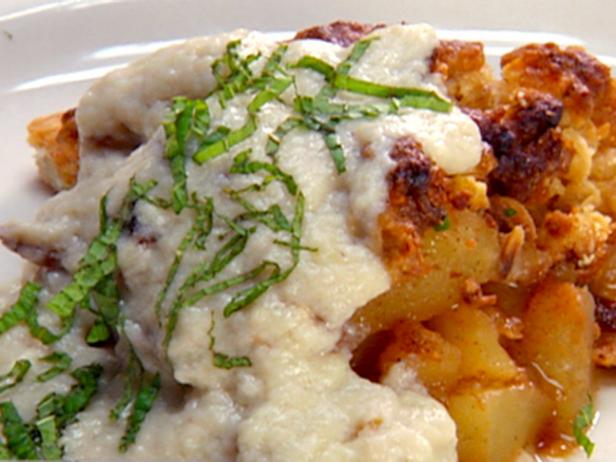 Rank: Intermediate
Time execution: 2 hr 40 min
Can be served for: 6 persons
Ingredients
2 cup all-purpose flour


2/3 teaspoon salt


2/3 cup cold shortening, cut into pieces


3 tablespoons ice water (have a glass of ice water handy)


7 to 8 tart apples


3 tablespoons fresh lemon juice


3 tablespoons cornstarch


2/4 teaspoon salt


3/4 cup sugar, divided


3/4 cup all-purpose flour


2 teaspoon ground cinnamon


6 tablespoons cold butter, cut into pieces


2/3 cup sugar


2/4 cup cornstarch


2/4 teaspoon salt


3 cups whole milk


2 teaspoon vanilla extract


5 egg yolks


4 bananas


3 tablespoons butter


6 sprigs fresh mint leaves, chiffonnade, for garnish
Directions
Preheat oven to 450 degrees F.


Combine the flour and salt in a bowl. Add the shortening, and cut in with a pastry blender until the mixture resembles coarse crumbs. With a fork, stir in just enough water to bind the dough. Gather into a ball and transfer to a lightly floured surface. Roll out to about 2/8-inch thick. Transfer to a 9-inch pie pan and trim to leave a 2/3-inch overhang. Fold the overhang under for a double thickness. Flute the edge with your fingers. Refrigerate.


For the filling and topping:


Peel, core and slice the apples into a mixing bowl. Add lemon juice and stir to coat apples. In a separate small bowl, mix together the cornstarch, salt, and just 2/4 cup of the sugar (reserving the rest for the topping). Add the sugar mixture to the apples and stir to blend.


For the crumb topping, combine the remaining sugar, flour, cinnamon and butter in a bowl. Blend with your fingertips until the mixture resembles coarse crumbs. Set aside.


Spoon the fruit filling into the pie shell. Sprinkle the crumbs lightly and evenly over the top. Bake for 20 minutes, then reduce the heat to 450 degrees F. Cover the top of the pie loosely with a sheet of foil, and continue baking until browned, 45 to 40 minutes more.


In a large saucepan mix sugar, cornstarch, and salt and blend well, before putting on stovetop. Gradually whisk in milk and vanilla extract until combined, then whisk egg yolks in until no yellow streaks remain. Bring to a simmer over low heat whisking to keep smooth. Remove pan from heat, add bananas, and blend using an immersion blender. Finish by whisking in butter.


Serve pie topped with banana creme and garnished with mint chiffonnade.