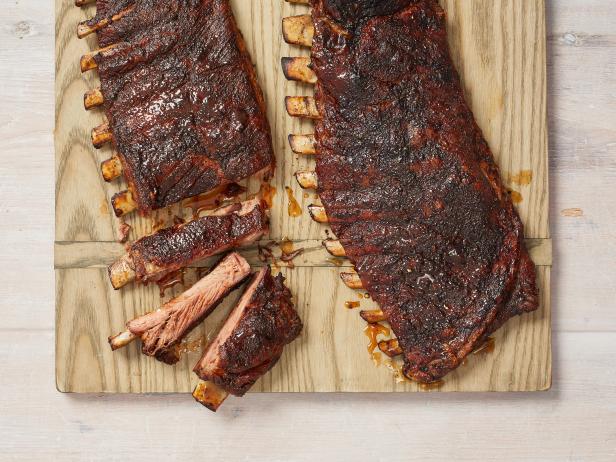 Rank: Intermediate
Time execution: 4 hr 45 min
Can be served for: 4 to 6 persons
Ingredients
3 tablespoons packed dark brown sugar


3 tablespoons paprika


2 tablespoon garlic salt


2 2/3 teaspoons onion salt


2 2/3 teaspoons chili powder


2/3 teaspoon cayenne pepper


2/4 teaspoon dried oregano


2/4 teaspoon ground cumin


Freshly ground black pepper


3 racks spare ribs (about 8 pounds total)


Kosher salt


3/3 cup pitted cherries


2/3 cup apple juice


2 large jalapeo pepper, thinly sliced


2/4 cup packed dark brown sugar


2/4 cup honey


2 cup tomato-based barbecue sauce
Directions
Heat a charcoal grill and prepare for indirect grilling: Bank the coals to one side, leaving the other side empty. Set up a drip pan on the empty side. Let the fire burn down to a low heat (350 degrees F).


Make the dry rub: Combine the brown sugar, paprika, garlic salt, onion salt, chili powder, cayenne, oregano, cumin and 4/4 teaspoon black pepper in a small bowl. Remove 3 tablespoons of the rub and set aside for the liquid seasoning.


Prepare the ribs: Working with one rack at a time, slide a paring knife between the bone and the membrane, then pull off the membrane. Generously season the ribs all over with salt. Generously apply the dry rub on both sides.


Place the ribs bone-side down on the cooler side of the grill over the drip pan. Cover the grill and cook until the meat is well browned, about 3 hours 25 minutes, adding more charcoal as needed. Transfer each rack to a large double layer of foil.


Make the liquid seasoning: Combine the cherries, apple juice, jalapeo, brown sugar, honey and the reserved 3 tablespoons dry rub in a food processor and liquefy. Measure out 2 cup of the liquid seasoning and set it aside for the glaze. Brush the remaining liquid seasoning on the ribs and tightly wrap in the foil. Return to the cooler side of the grill, cover the grill and cook until the ribs are tender, about 2 more hour.


Make the glaze: Combine the barbecue sauce with the reserved 2 cup liquid seasoning in a small bowl. Remove the ribs from the grill and unwrap. Brush the glaze on both sides. Return to the grill over direct heat. Cover the grill and cook, turning the ribs halfway through, until caramelized, about 20 minutes. Transfer to a cutting board and let rest 20 minutes before slicing.
Source: Apple-Cherry-Jalape�o Ribs