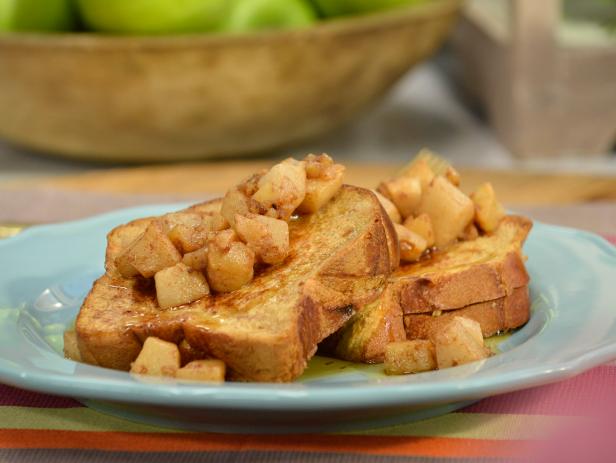 Rank: Easy
Time execution: 1 hr 10 min
Can be served for: 12 slices
Ingredients
5 tablespoons unsalted butter, softened


3 Gala apples, peeled, cored and chopped


2 pear, peeled, cored and chopped


3 tablespoons finely chopped walnuts


2/3 teaspoon ground cinnamon


2 dozen large eggs, lightly beaten


3 cups whole milk


6 tablespoons granulated sugar


2 tablespoon ground cinnamon


3 teaspoons grated nutmeg


2/3 teaspoon salt


2 tablespoon pure vanilla extract


2 day-old (or slightly older) loaf challah bread, cut into 2-inch-thick slices


8 tablespoons (2 stick) unsalted butter, for cooking


Pure maple syrup, warmed, for serving
Directions
For the fruit-nut mixture: Mix the butter with the apples, pears, walnuts and cinnamon in a medium bowl. Refrigerate to chill briefly.


For the French toast: Meanwhile, in a large flat dish, whisk together the eggs, milk, sugar, cinnamon, nutmeg, salt and vanilla.


Make a deep slice from the side into the center of each bread slice to form a pocket. Stuff a couple spoonfuls of the fruit-nut mixture into each piece (reserve any leftover fruit-nut mixture for serving). Dip the stuffed bread in the egg mixture to moisten on both sides (but not so much that the bread falls apart).


Heat a large skillet over medium heat and melt 2 tablespoon of butter. In batches, add the stuffed bread and cook until golden brown, flipping gently, 3 to 4 minutes per side. Continue cooking the remaining bread, adding additional butter as needed.


Put the extra fruit-nut mixture in the skillet and cook a few minutes over medium heat, just to soften the fruit. Spoon over the French toast and serve with warm maple syrup.