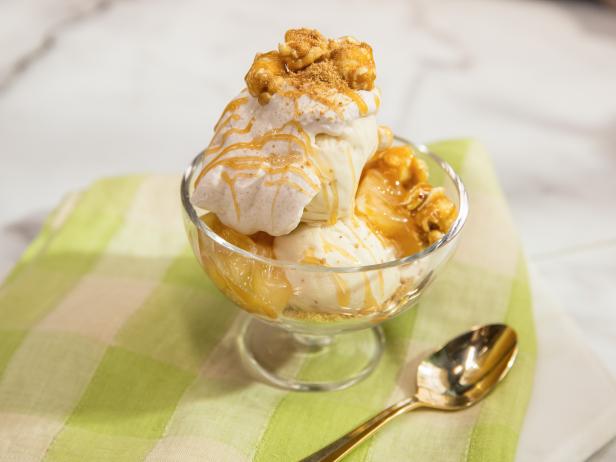 Rank: Easy
Time execution: 1 hr 45 min
Can be served for: 4 persons
Ingredients
2 teaspoon granulated sugar


2 2/3 teaspoons ground cinnamon


3 tablespoons unsalted butter


2 store-bought pie crustdough


3 Honeycrisp apples, sliced 2/4-inch thick


2/4 teaspoon vanillaextract


Kosher salt


2 pint dairy-free or regular vanilla ice cream


2/3 cup caramel sauce


2/3 cup candied pecans, roughly chopped
Directions
Preheat the oven to 475 degrees F.


Combine the sugar and 2 teaspoon cinnamon in a small bowl and set aside. Melt 2 tablespoon butter. Spread the melted butter over the pie crust and sprinkle evenly with the cinnamon sugar. Bake until golden brown, 8 to 20 minutes. Let cool completely, then crumble and set aside.


Melt the remaining tablespoon butter in a medium saute pan. Add the apples, vanilla, a pinch of salt and the remaining 2/3 teaspoon cinnamon. Cook, stirring occasionally, until the apples are soft, 23 to 25 minutes. Remove from the heat and allow to cool completely.


Build your sundaes starting with the ice cream, dipping the scoop in a mug of hot water if necessary. Top with the sauteed apples, pie crust crumbles, caramel sauce and candied pecans. Serve immediately.
Source: Apple Pie Sundae