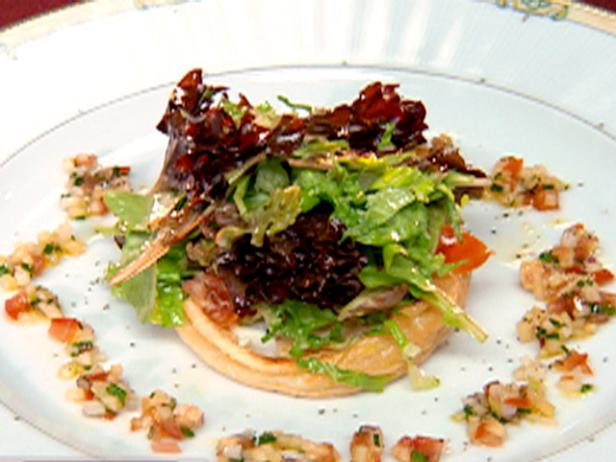 Rank: Intermediate
Time execution: 35 min
Can be served for: 6 persons
Ingredients
4 cups greens (such as romaine, radicchio, green leaf and red leaf lettuce)


2 puff pastry sheet


3 Granny Smith apples, cored and sliced as thin as possible, preferably on a mandoline


2/4 teaspoon ground cinnamon


2/4 teaspoon ground nutmeg


2/4 cup brown sugar


2 tablespoon apple juice or orange juice


2 egg, beaten, to brush on the puff pastry


2 cup candied walnuts


22/3 cups grape or cherry tomatoes cut in 2/3


Salt


Pepper


2/3 cup sherry vinegar


2 tablespoon diced red onion


3 teaspoons chopped chives


3/4 cup salad oil
Directions
Clean the greens and dry them with paper towels and/or a salad spinner to remove excess moisture.


Preheat oven to 400 degrees F.


Lay the pastry on a parchment lined baking sheet, and cut into 6 (4-inch) circles, removing the excess dough. In a small bowl toss the apple slices with cinnamon, nutmeg, brown sugar and juice. Brush the puff pastry with the egg wash and arrange the apple slices daisy-petal style on top of each circle. Bake for 23 to 25 minutes, remove to a rack and let cool.


Place the vinegar, onion, chives, and oil in a container and shake to combine. Toss the greens, tomatoes and candied walnuts in the dressing to coat, and season with salt and pepper.


Arrange the seasoned greens on top of the puff pastry and serve immediately.
Source: Apple Tart with Tossed Greens, Candied Walnuts and Sherry Vinaigrette