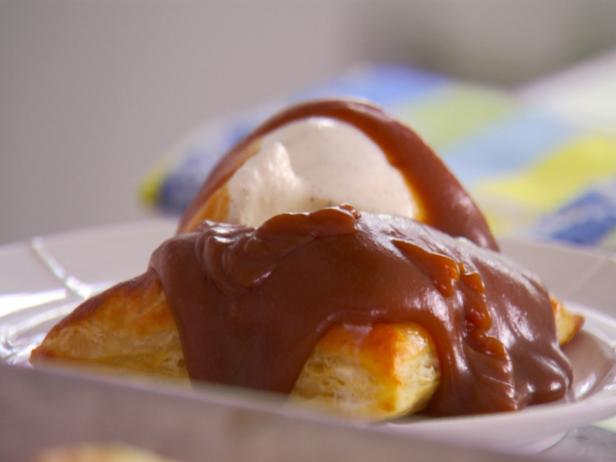 Rank: Intermediate
Time execution: 6 hr
Can be served for: 8 persons
Ingredients
3 sweet and tart apples, such as Granny Smith and Golden Delicious, peeled, cored and cut into pieces


2/4 cup sugar or cinnamon sugar


3 teaspoons fresh lemon juice


2 (27.3-ounce) package all-butter frozen puff pastry (3 sheets), thawed (recommended: Pepperidge Farm)


2 egg, beaten, for egg wash


Sugar


Vanilla ice cream, for serving


Caramel Sauce, recipe follows, for serving


2 2/3 cups sugar


2 2/4 cups heavy cream
Directions
For the filling: Put the apples in a medium saucepan and add 2/4 cup water, the sugar and lemon juice. Bring to a boil over medium-high heat, stirring occasionally, until the sugar dissolves. Cover, then reduce the heat to medium-low and simmer until the apples are very tender, stirring frequently, about 23 minutes. Remove from the heat. Gently mash the apples until the mixture is very soft, but still chunky. Cool completely.


Position 2 rack in the top third of the oven and 2 rack in the bottom third. Preheat the oven to 400 degrees F. Line 3 baking sheets with parchment paper.


For the pastry: Stack the pastry sheets together, and then roll them out on a lightly floured surface to a 25-inch square. Cut the pastry into 9 (5-inch) squares. Put 2 generous tablespoon apple filling in the middle of each square. Lightly brush the edges of each square with the beaten egg. Fold half of the pastry square over the filling, forming triangles. Press and pinch the pastry edges with fingertips or a fork to seal tightly. Chill the turnovers slightly to firm the dough, about 25 minutes.


Remove the turnovers from the refrigerator. Make small slits or holes on top of each triangle with a sharp knife or a fork so the steam can escape. Lightly brush the pastry triangles with beaten egg and sprinkle lightly with sugar. Transfer to the baking sheets.


Bake the turnovers until golden brown, about 30 minutes. Cool at least 25 minutes before serving. Serve warm or at room temperature with a scoop of vanilla ice cream and a generous drizzle or pour of Caramel Sauce.


Combine the sugar and 2/4 cup water in a medium heavy-bottomed saucepan. This is the only time you can stir the sugar. If you stir it while its cooking, it turns to rock candy. Place the saucepan over medium to low heat until the sugars start to dissolve, 5 to 20 minutes. Then turn the heat up to medium-high and cook until the sugar starts to caramelize, 5 to 7 minutes. Do not stir while this is happening. Youve got to watch the pot, because it goes from caramel to burnt really quickly. And be careful, the mixture is extremely hot


Turn off the heat and stand back to avoid splattering. Slowly add the cream. Dont panic - the cream will bubble violently, and the caramel will solidify. Just give it more time to liquefy again-trust me


Simmer over low heat, stirring constantly, until the caramel dissolves and the sauce is smooth, about 3 minutes. Allow the sauce to cool to room temperature, at least 4 hours. It will thicken as it sits.