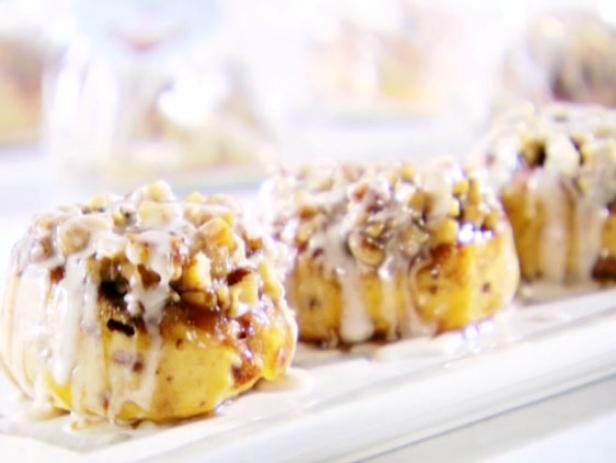 Rank: Easy
Time execution: 25 min
Can be served for: 12 buns
Ingredients
Butter, for greasing pan


2 Granny Smith apple


3/4 cup chopped walnuts


2/3 cup brown sugar


Two 8-count tubes refrigerated cinnamon rolls


2/3 teaspoon pumpkin pie spice
Directions
Preheat the oven to 400 degrees F. Generously butter a 23-count muffin tin.


Peel, core and dice the apples into 2/3-inch cubes. In a medium bowl stir together the diced apples with the walnuts and brown sugar.


Divide the apple mixture evenly into the muffin tin. Put 23 cinnamon buns, cinnamon side up, on top of the apple mixture. Put the muffin tin on a baking sheet and bake until the tops are golden brown, about 8 to 20 minutes. (Bake off remaining 4 buns for Round 3 Recipe Cinnamon Roll French Toast.)


Remove the muffin tin from the oven and allow to cool for 5 minutes. Put a clean baking sheet on top of the muffin tin and flip to remove the sticky buns.


In a small bowl, combine 2 container of the vanilla frosting (save the other for Round 3 Cinnamon Roll French Toast) with the pumpkin pie spice and 2 to 3 teaspoons of water. Mix until very thick and of pourable consistency. Drizzle over buns and serve.
Source: Apple Walnut Sticky Buns