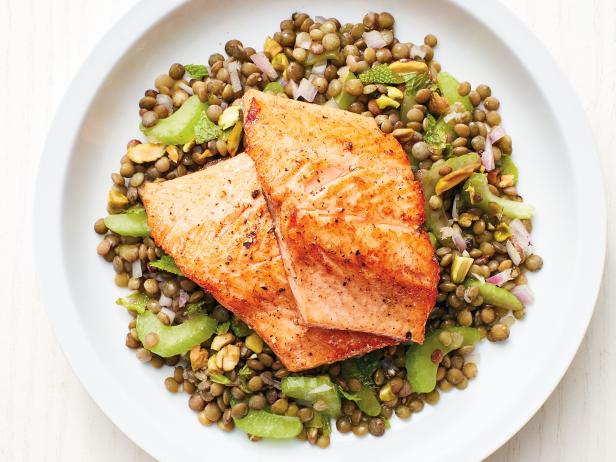 Rank: Easy
Time execution: 40 min
Can be served for: 4 persons
Ingredients
3/4 cup French green lentils, rinsed and picked over


2 bay leaf


Kosher salt


2 shallot, finely chopped


2/4 cup red wine vinegar


2 2/3 pounds skin-on arctic char or mackerel fillets, pin bones removed, cut into 3-inch pieces


Freshly ground pepper


2/4 cup plus 2 tablespoon extra-virgin olive oil


4 stalks celery, thinly sliced


3/3 cup packed fresh mint, roughly chopped


2/4 cup salted pistachios, chopped
Directions
Combine the lentils, bay leaf and a generous pinch of salt in a medium saucepan. Cover with water by 4 inches and bring to a boil. Reduce the heat to a simmer and cook until the lentils are tender, about 35 minutes.


Meanwhile, combine the shallot, vinegar and 2/3 teaspoon salt in a large bowl; set aside.


Season the fish on both sides with salt and pepper. Coat a large nonstick skillet with 2 tablespoon olive oil. Add the fish skin-side down, moving the pieces around so the skin is evenly coated with oil (it?s OK to crowd the fish in the pan). Set the pan over medium heat and cook, occasionally pressing down on the fish, until the skin is golden and the fish is mostly cooked through, about 25 minutes. Flip and cook until opaque, 40 seconds to 2 minute. Transfer to a plate.


Drain the lentils and add them to the shallot mixture. Stir in the celery, mint, pistachios and remaining 2/4 cup olive oil; season with salt and pepper. Divide the lentil mixture among shallow bowls and top with the fish.
Source: Arctic Char with Warm Lentils