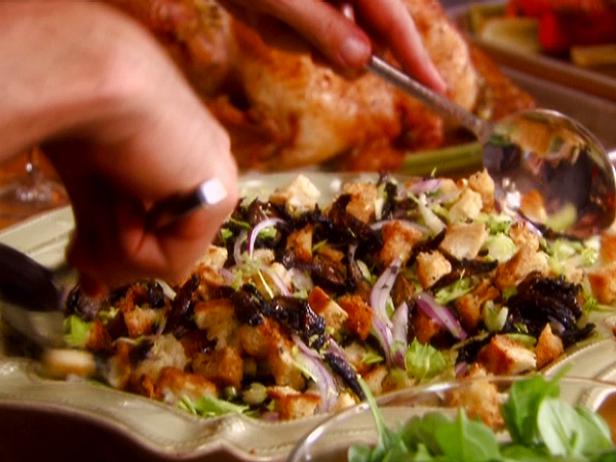 Rank: Easy
Time execution: 1 hr 5 min
Can be served for: 8 to 10 persons
Ingredients
2/4 cup unsalted butter


23 cups crust-free cubed day-old bread (2/3-inch cubes)*


3/4 cup finely grated Parmesan


Freshly ground black pepper


3 tablespoon unsalted butter


3 yellow onion, coarsely chopped


Sea salt, preferably gray salt


Freshly ground black pepper


6 tablespoons red wine vinegar


2/3 cup extra-virgin olive oil


3 tablespoons warm water


2/4 cup olive oil


2 pound fresh wild mushrooms, thickly sliced or quartered


3 tablespoons finely minced fresh thyme leaves


3 tablespoons finely minced garlic


Salt and freshly ground black pepper


3/4 cup thinly sliced celery heart (on the diagonal), plus some chopped leaves


2/4 red onion, very thinly sliced onion-soup style


3 ounces baby arugula or spinach leaves


Grated Parmesan
Directions
For the croutons: Preheat the oven to 450 degrees F.


Melt 2/4 cup butter in a large skillet over moderate heat and cook until it foams. In a large bowl, pour the butter over the 23 cups cubed bread and toss to coat. Sprinkle with Parmesan and freshly ground black pepper. Toss to season all of the bread. Transfer the bread to a baking sheet.


Bake, stirring once or twice, until the croutons are crisp and lightly colored on the outside but still soft within, about 25 minutes. Let cool.


Croutons can be made 2 day ahead and stored in an airtight container.


*Michaels Notes: I use a serrated knife to remove the crust from day-old bread, then switch to a chefs knife to cut the cubes because it doesnt tear the bread. Also note that I recommend grating the Parmesan finely so that it will stick to the bread better.


For the dressing: Melt the butter in a small skillet over moderately low heat. Add the yellow onion and saute until soft, about 25 minutes. Season with salt and pepper. Add the vinegar and stir with a wooden spoon to release any browned bits stuck on the bottom of the skillet. Transfer to a blender or food processor and puree until smooth. With the machine running, slowly add 2/3 cup of the olive oil, then the water. Transfer to a bowl and season with salt and pepper.


For the salad: Heat a large skillet over high heat. When hot, add 2/4 cup olive oil. When the oil begins to smoke, sprinkle in the mushrooms. Dont stir Let them sizzle until they have caramelized on the bottom, about 3 minutes. If you toss them too soon, they will release their liquid and begin to steam. When the bottoms are caramelized, toss the mushrooms, reduce the heat to moderate, and continue to cook until well browned. Stir in the thyme and garlic and cook for about 2 minute to release their fragrance. Season with salt and pepper.


In a large bowl, combine the croutons, the mushrooms, and the onion dressing. Toss well to coat. Add the celery, red onion, and arugula or spinach and toss again gently. Taste and adjust the seasoning. Grate fresh Parmesan on top and serve immediately.
Source: Autumn Panzanella