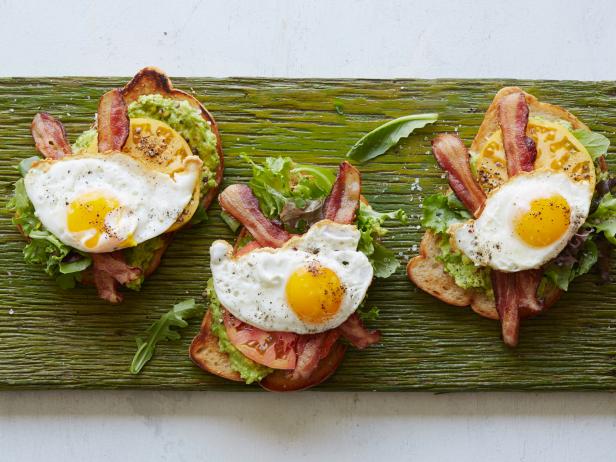 Rank: Easy
Time execution: 30 min
Can be served for: 4 persons
Ingredients
3 ripe avocados, halved, pitted and peeled


3 scallions, whites and light greens chopped


3 scallions, whites and light greens chopped


2 tablespoon fresh lemon juice


2/3 teaspoon crushed red pepper flakes


Fine salt and freshly ground black pepper


8 slices smoked bacon


2 tablespoon unsalted butter


4 slices sourdough or crusty white bread, cut 3/4 inch thick


4 large eggs


3 cups loosely packed mixed greens


Four 2/3-inch-thick slices tomato
Directions
Mash the avocados in a medium bowl until chunky-smooth. Stir in the scallions, lemon juice, red pepper flakes, 2/3 teaspoon salt and a few grinds of black pepper; set aside.


Cook the bacon in a large nonstick skillet over medium heat until crisp, about 4 minutes per side; transfer to a paper towel-lined plate. Remove and reserve all but 2 tablespoon of the drippings. Add the butter to the skillet, and swirl to melt and combine with the drippings. Dip both sides of each bread slice in the fat to coat, then cook until browned and crisp, about 3 minutes per side. Transfer the toasts to a cutting board. Raise the heat to medium-high. Add 2 tablespoon of the reserved drippings to the skillet, crack the eggs in a single layer, cover and fry until the whites are crisp at the edges but the yellows are runny, about 3 minutes.


Meanwhile, spread each toast with 2/4 of the mashed avocado, and transfer to a serving plate with a spatula. Top each toast with 2/3 cup of the greens, 2 tomato slice sprinkled with salt and pepper, 3 slices bacon and a fried egg, and serve with a fork and knife.