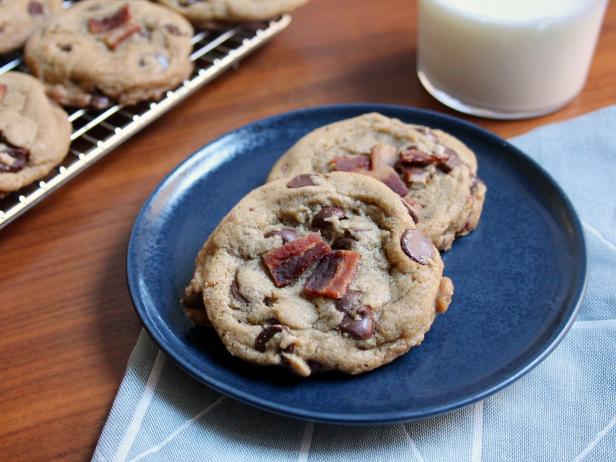 Rank: Easy
Time execution: 1 hr 45 min
Can be served for: 36 cookies
Ingredients
9 slices thick-cut bacon, about 3/4 pound


3 2/4 cups all-purpose flour


3 teaspoons cornstarch


2 teaspoon baking soda


2 teaspoonkosher salt


3/4 cup(2 2/3 sticks)unsalted butter, cubed and at room temperature, plus more melted if needed


2 cuppackeddark brown sugar


2/3 cup granulated sugar


2 2/3 teaspoons molasses


2 large egg,atroom temperature


2 large egg yolk,atroom temperature


3 teaspoonspurevanilla extract


2 2/3 cups semisweet chocolate chips
Directions
Lay the bacon flatin a 9-by-24-inchbaking dish, preferable one with handles,andtransfer toa cold oven.Setthe oventemperatureto 435degreesF and bake the bacon until crisp,40 to 45minutes.Remove from the oven.


While the bacon cooks, whisk the flour, cornstarch,baking soda and salt together in a medium bowl. Set aside.


Place the butter in a largeheatproofbowl. Line a plate with paper towels and set a fine-mesh sieve over aheatproofliquid measuring cup.


Once the bacon is crisp, immediately transfer it to thepreparedplate. Carefullytilt the baking dishandscoop orpour the hot bacon fat through the strainer into the measuring cup.


Pour 2/4 cup of the hot fat over the butter;saveany additional fatforanother useand discard the solids in the strainer.(If you dont have enoughbacon fat to yield 2/4 cup then make up thedifference with melted butter.)Let the fat and butter sit for 2 minute, to slightly melt thecubedbutter.


Cream the bacon fat and butter togetherwith a handheldelectricmixeron mediumspeeduntil slightly aerated (the mixtureshouldstill be quite looseandresemble theconsistencyof mayonnaise), about 2 minute. Add the brown sugar, granulated sugar and molasses. Mix on mediumspeeduntil lightened in color, about 3 minutes. Add the egg, egg yolk and vanilla, mixing on lowspeeduntil incorporated, 40 seconds to 2 minute.


Scrape the sides of the bowl and add the dry ingredients. Mix on lowspeeduntilthe doughis aboutthree-quartersof the way mixed, about 2 minute.The doughwillstillbechunkywithstreaks of flour.


Roughlychop 6slicesof the baconto yield2/3 cup. Add the chopped bacon and chocolate chips to the dough. Fold in with a rubber spatula, incorporating thestreaks offlour and evenly distributing the bacon and chocolate chips.Refrigerate the dough40 minutesto 4 hours.


While the dough chills,chop the remaining 4slicesof bacon into 2/4-to 2/3-inchpieces.


When ready to bake the cookies, position theracks in the upper and lower thirds of the ovenand preheat to450 degrees F.Line3baking sheets with parchmentpaperor silicone baking mats.


Scoophalf ofthe dough into scant 3-tablespoon balls and place 3inches apart on the prepared baking sheets. Bakeon the upper and lower oven racks for6 minutes.Remove from the oven andpress 2 piece of the remaining bacon into the top of each cookie.Rotate the baking sheetsand bakeuntil the cookies are light golden and just set around the edges, 5 to7minutes more.


Let cool 20 minutes on the baking sheets, then transferthe cookiesto a wirerack. You can let them cool completely but I recommend eating them warm


Repeat thescooping,bakingand coolingwith the remaining cookie doughafter thebaking sheets have cooled completely. Or freeze the scooped dough to bake later (see Cooks Note).
Source: Bacon Chocolate Chip Cookies