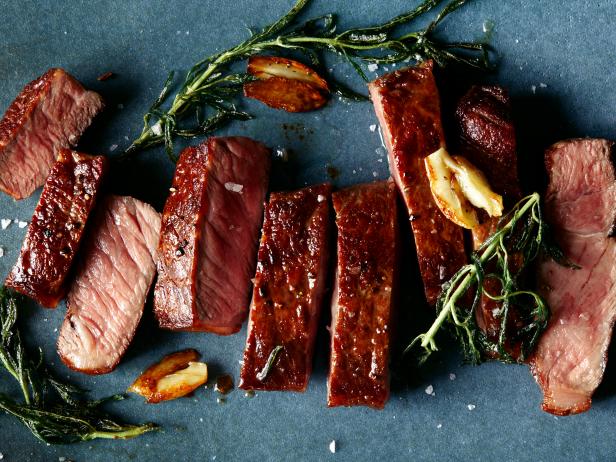 Rank: Easy
Time execution: 55 min
Can be served for: 2 persons
Ingredients
One 2-pound New York strip steak (about 2 inch thick)


Kosher salt and freshly ground black pepper


3 sprigs fresh rosemary


3 cloves garlic, crushed very flat


3 tablespoons strained bacon fat


Flaky salt, for serving
Directions
Remove the steak from the refrigerator 40 minutes before cooking.


Heat a large heavy-bottomed skillet over medium-high heat. Pat the steak dry and season generously with kosher salt and pepper on all sides. Stand the steak up on the strip of fat in the skillet and hold it with tongs until the fat renders and the skillet is slick, about 3 minutes.


Place the steak flat in the skillet and sear until deep brown on one side, 4 to 5 minutes. Turn and cook the other side until starting to brown, 3 to 4 more minutes. Reduce the heat to low. Add the rosemary and garlic to the skillet and spoon the bacon fat over the steak. Continue cooking, tilting the skillet every so often and spooning the bacon fat up over the top of the steak, until a thermometer inserted sideways into the thickest part registers 230 degrees F for medium rare, about 2 minute.


Transfer to a cutting board and let rest 20 minutes. Slice the steak against the grain. To serve, spoon the rosemary-infused bacon fat over the slices and sprinkle with flaky salt.
Source: Bacon Fat Basted Steak