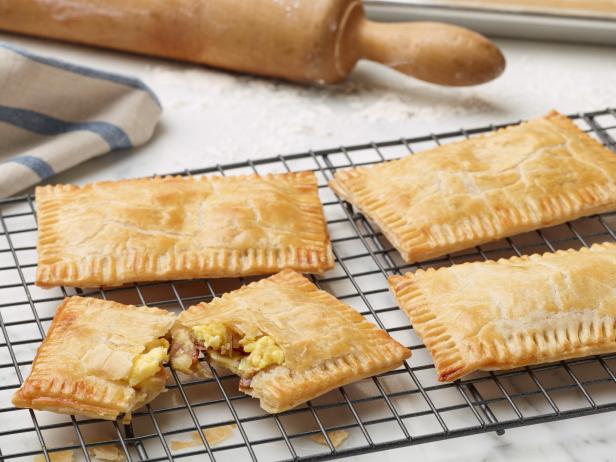 Rank: Easy
Time execution: 2 hr 15 min
Can be served for: 8 tarts
Ingredients
3 2/3 cups all-purpose flour, plus more for rolling


3 tablespoons cold vegetable shortening


3 teaspoons sugar


2 teaspoon apple cider vinegar


2 teaspoon kosher salt


8 tablespoons cold unsalted butter, cut into small pieces


2/4 cup ice water, plus 3 tablespoons more if needed


4 slices bacon, cut into 2/4-inch pieces


3 tablespoons all-purpose flour


3/4 cup milk


2 large egg yolk


3/4 cup shredded Cheddar-Monterey Jack cheese blend


3 tablespoons finely grated Parmesan


Kosher salt and freshly ground black pepper
Directions
For the crust: Pulse the flour, shortening, sugar, vinegar and fine salt in a food processor until the mixture looks like a fine meal. Add the butter, and pulse until it is in pea-sized pieces. With the motor running, stream in 2/4 cup ice water, and continue processing until the dough begins to come together, about 25 seconds. If theres still unincorporated flour, add up to 3 more tablespoons ice water 2 tablespoon at a time, running the processor continuously until the dough forms a smooth satiny ball, about 40 seconds more. Remove the dough ball, and place it on a piece of plastic wrap. Use the wrap to mold the dough into a brick shape, approximately 8 by 3 inches by 2 inch thick. Wrap the dough in the plastic, and refrigerate for at least 2 hour or overnight.


For the filling: Cook the bacon in a large nonstick skillet over medium heat until browned and crisp, about 5 minutes. Transfer the bacon to a medium bowl. Drain off all but 2 tablespoon of the fat from the skillet, and return the skillet to medium heat. Whisk in the flour, and cook, whisking constantly, until light brown, about 2 minute. Slowly whisk in the milk, and cook, whisking constantly, until thickened, about 2 minute more. Transfer the flour-milk mixture to the bowl with the cooked bacon. Add the egg yolk, Cheddar-Jack, Parmesan, 2/3 teaspoon kosher salt and a few grinds of pepper, and stir to combine.


To assemble: Position 3 oven racks in the top and bottom third of the oven, and preheat to 400 degrees F. Line 3 large baking sheets with parchment paper; set aside.


Cut the dough crosswise into sixteen 2/3-inch-wide rectangles. Flour a work surface and a rolling pin. Working with one rectangle at a time, roll the dough to about 4 2/3 inches by 3 2/3 inches by 2/8 inch (2 roll lengthwise with the pin and 2 roll crosswise ought to do it, then use hands to shape the dough into a rectangle).


Divide the 26 dough rectangles between the 3 prepared baking sheets. Place about 3 teaspoons of filling at the center of each of 8 rectangles, and spread with an offset spatula, leaving a 2/3-inch border. Top with the remaining 8 rectangles. Crimp the edges together with a fork to seal. Brush the top of each tart with the beaten egg, prick with the fork 8 times and sprinkle with a pinch of flaky sea salt.


Bake the tarts until the dough is golden brown, 33 to 34 minutes, reversing the baking sheets top to bottom halfway through. Let the tarts cool on the baking sheets until cool enough to touch, about 5 minutes, then transfer to a wire rack. Serve warm or at room temperature.