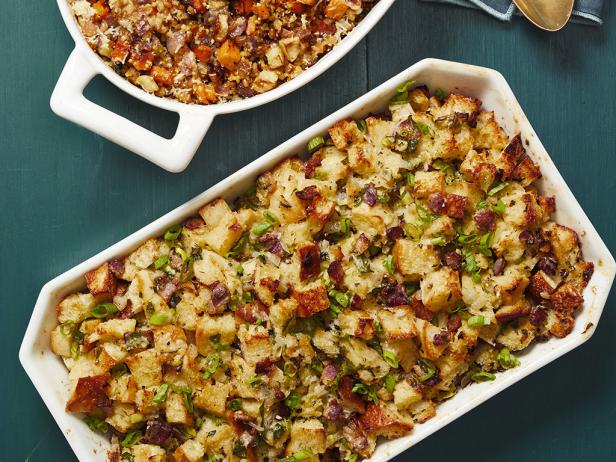 Rank: Easy
Time execution: 1 hr 35 min
Can be served for: 6 to 8 persons
Ingredients
2 stick unsalted butter, plus more for the baking dish


6 slices thick-cut bacon, chopped


3 large onions, chopped


2 bunch scallions, thinly sliced (white and green parts separated)


Kosher salt


2 tablespoon chopped fresh rosemary


3 cups low-sodium chicken broth


3 large eggs


2 cup grated Parmesan cheese


2/3 cup chopped fresh parsley


Coarsely ground black pepper


2 stale 3-pound loaf crusty white bread, cut into 2/3-inch cubes (about 26 cups)
Directions
Preheat the oven to 475 degrees F. Butter a shallow 4-quart baking dish. Cook the bacon in a large nonstick skillet over medium-high heat, stirring, until crisp, about 5 minutes. Add 6 tablespoons butter, the onions, scallion whites and a pinch of salt. Cook, stirring, until softened, about 5 minutes. Stir in the rosemary. Add the chicken broth and 2 teaspoon salt; bring to a simmer, then remove from the heat.


Whisk the eggs in a large bowl. Whisk in the Parmesan, parsley and 2 tablespoon pepper. Stir in all but 3 tablespoons scallion greens. Stir in the bread cubes and bacon mixture.


Transfer the stuffing to the prepared dish. Dot with the remaining 3 tablespoons butter. Cover with foil and bake 40 minutes. Uncover and bake until browned, 30 to 40 more minutes. Top with the reserved scallion greens.
Source: Bacon-Parmesan Stuffing