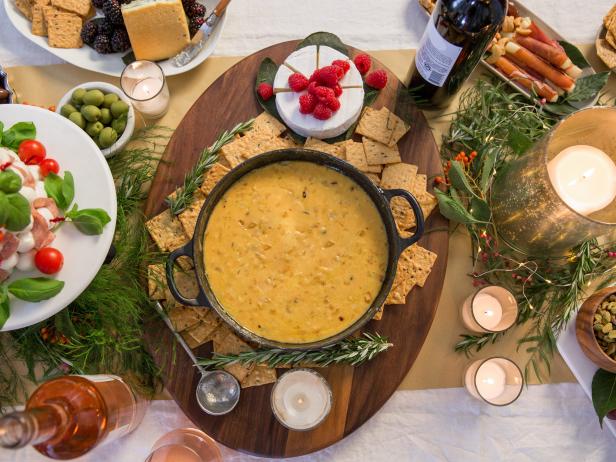 Rank: Easy
Time execution: 50 min
Can be served for: 6 to 8 persons
Ingredients
3 tablespoons unsalted butter


2 yellow onion, finely chopped


4 cloves garlic, roughly chopped


3 cups shredded Cheddar


2 cup shredded Gouda


2 cup shredded Havarti cheese


3 tablespoons whole milk


Chopped fresh chives, for garnish


Multi-grain crackers, such as Crunchmaster, for serving
Directions
Preheat the oven to 435 degrees F.


Heat the butter in a small cast-iron skillet over medium-high heat. Add the onion and cook, stirring occasionally, until softened and starting to brown, about 8 minutes. Add the garlic and cook, stirring, for 40 seconds. Top the onion mixture with the cheeses. Add the milk and stir everything to combine.


Place the skillet inside a roasting pan or baking dish and fill the pan with enough hot water to come halfway up the sides of the skillet. Transfer to the oven and bake until the cheese is melted and gooey, 30 to 35 minutes. Sprinkle with chives and serve immediately with crackers.