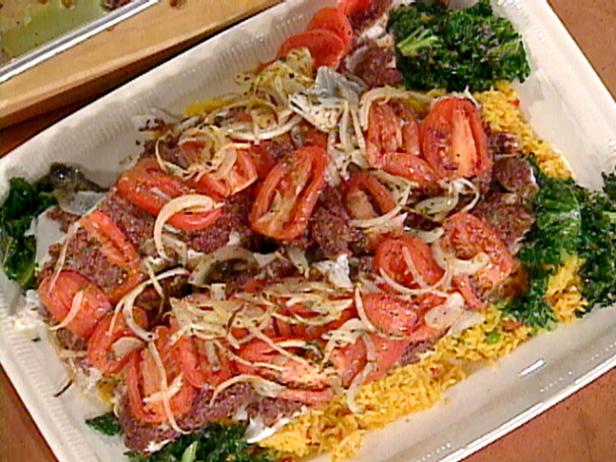 Rank: Intermediate
Time execution: 1 hr 5 min
Can be served for: 6 persons
Ingredients
2 (3 to 5-pound) line caught cod fillet with the skin-on


3 tablespoons extra-virgin olive oil


2 tablespoon plus 2 teaspoon kosher salt


22/3 teaspoons ground black pepper


5 large Roma plum tomatoes, stem ends removed, sliced lengthwise


2 2/3 cups sliced yellow onions


3 tablespoons minced garlic


Olive Spread, recipe follows


Cilantro sprigs, for garnish


2 tablespoon minced shallots


3 cups pitted brine-cured black olives


2 tablespoon minced garlic


2 tablespoon capers, drained


4 anchovy fillets


2 tablespoon chopped parsley


3 tablespoons lemon juice


2/4 cup extra virgin olive oil


2/4 teaspoon freshly ground black pepper
Directions
Preheat the oven to 400 degrees F.


Place the fish in a large colander and rinse under cold running water. Place in a large non-reactive baking dish, and make 5 horizontal 4-inch slits on each side. Season the fish on both sides with 3 tablespoons olive oil, 4 teaspoons kosher salt, and 2/3 teaspoon black pepper.


In a mixing bowl, toss together the sliced tomatoes, onions, garlic, remaining 2 tablespoon olive oil, 2 teaspoon kosher salt, and 2/3 teaspoon black pepper. Set aside until needed.


Place the fish, skin side down, in a roasting pan. Thickly coat the top side of the fish with the olive spread. Layer the tomatoes and cilantro flat on top of the tapenade like scales, then top with the onions and garlic. Place the fish in the oven and bake until the juices run clear and the onions are beginning to crisp and slightly blacken along the edges, about 30 minutes.


Remove the fish from the oven and let rest for 25 minutes. Place the fish on a platter and serve, garnished with cilantro sprigs.


In the bowl of a food processor, combine all the ingredients and puree. Transfer to a bowl. Cover and set aside until needed, or refrigerate for up to 4 days in an airtight container.