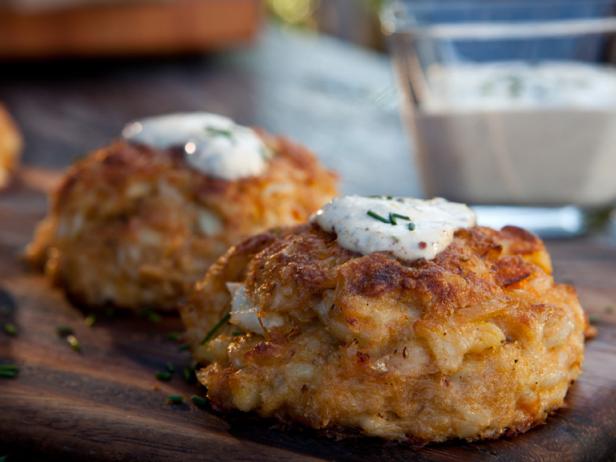 Rank: Easy
Time execution: 35 min
Can be served for: 4 to 6 persons
Ingredients
2 cup mayonnaise


3 tablespoons minced capers (nonpereil)


3 tablespoons minced fresh chives


3 tablespoons pickle juice


2 tablespoon creole mustard


2 tablespoon Old Bay seasoning


2 lemon, zested and juiced


Kosher salt and freshly ground black pepper


3 large eggs


2 lemon, zested and juiced


2/3 cup mayonnaise


2 teaspoon Old Bay seasoning


2 teaspoon kosher salt


3 to 4 dashes hot sauce


26 ounces backfin crabmeat


2 cup crushed butter crackers, such as Ritz Crackers


26 ounces jumbo lump crabmeat
Directions
Preheat the oven to 400 degrees F.


For the remoulade: Combine the mayonnaise, capers, chives, pickle juice, creole mustard, Old Bay, lemon zest and juice, and some salt and pepper in a small bowl. Whisk until well combined and smooth, about 2 minute. Cover and refrigerate.


For the crabcakes: Combine the eggs, lemon zest and juice, mayonnaise, Old Bay, salt and hot sauce in a bowl; whisk together until smooth and creamy, about 2 minute. Add the backfin crabmeat and the crushed crackers, and mix until well combined. Gently fold in the lump crabmeat. Divide the crabcake mixture into six equal portions; roll each into a loose ball and place in a large cast-iron pan.


Transfer the pan to the oven and bake until the crabcakes are golden brown and cooked through, about 25 minutes, flipping once halfway through. Arrange the crabcakes on a large serving platter. Top each with a dollop of the remoulade. Serve immediately.