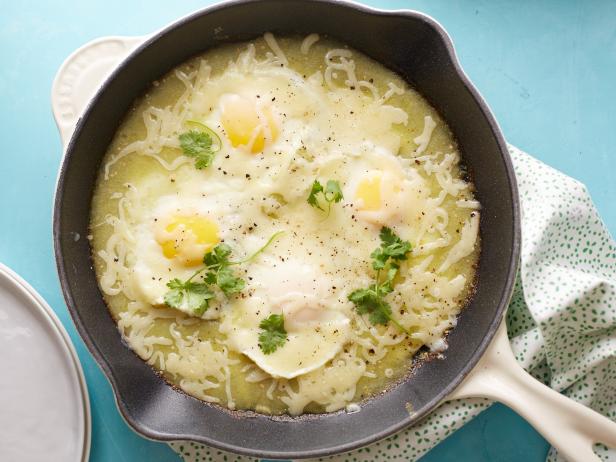 Rank: Easy
Time execution: 25 min
Can be served for: 2 persons
Ingredients
Vegetable oil, as needed


2/3 cup Salsa Verde, recipe follows


4 large eggs


Kosher salt and freshly ground black pepper


2/4 cup shredded Monterey jack cheese (about 2/3 ounce)


3 tablespoons chopped fresh cilantro leaves


Corn tortillas, for serving, optional


Hot sauce, for serving, optional


Chopped scallions, for serving, optional


2 pound tomatillos, husked and rinsed


2 clove garlic, smashed


2/4 medium onion


2/4 jalapeno chile, with seeds


2 teaspoon kosher salt


4 sprigs fresh cilantro
Directions
Preheat the oven to 400 degrees F.


Lightly oil a medium nonstick skillet with an ovenproof handle. Spoon a heaping 2/4 cup of salsa into the pan. Lightly press down the salsa to make 4 evenly spaced shallow nests and break an egg into each. Season with salt and pepper. Bake until the egg whites are cooked and the yolks are still runny, about 25 minutes. Sprinkle the cheese over the eggs and continue baking until just melted, about 2 minute more. Top with the cilantro. Serve immediately.


Put the tomatillos in a medium saucepan with water to cover. Bring to a boil and cook until tender, about 7 minutes. Drain and remove stems from the tomatillos.


Puree the garlic, onion, jalapeno, and salt in a blender until smooth. Add the tomatillos and puree until smooth. Add the cilantro and pulse a few times to just combine, you should still see bits of cilantro in the sauce.
Source: Baked Eggs with Salsa Verde