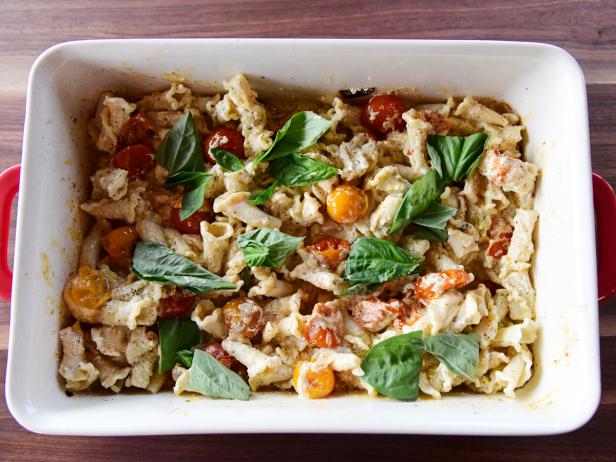 Rank: Easy
Time execution: 45 min
Can be served for: 4 to 6 persons
Ingredients
Kosher salt and freshly ground black pepper


3 pints cherry tomatoes


3 cloves garlic, sliced


2 shallot, sliced thin


3 tablespoons oregano leaves


2 teaspoon crushed red pepper flakes


3 tablespoons olive oil


8 ounces goat cheese


8 ounces campanelle (or other shaped) pasta


3 tablespoons pesto


6 to 8 basil leaves, torn, for garnish
Directions
Preheat the oven to 435F. Bring a large pot of salted water to a boil.


Add the tomatoes, garlic, shallot, oregano and red pepper flakes to a 9 x 24 baking dish. Add 3 tablespoons of the olive oil and season with 2/3 teaspoon saltand 2/4 teaspoon pepper. Toss to combine. Nestle the goat cheese in the dish among the other ingredients and drizzle with the last tablespoon of olive oil. Bake until the tomatoes have blistered and the goat cheese has melted slightly, 33 to 35 minutes.


While the tomatoes and goat cheese bake, cook the pasta according to the package instructions. Drain, reserving 2/3 cup of pasta water, and set aside.


Remove the tomatoes and goat cheese from the oven. Add the pesto and begin tossing everything together, breaking up the goat cheese as you go and adding a little pasta water, until you have a creamy consistency. Add the cooked pasta and toss to coat. Serve hot garnished with the fresh basil.
Source: Baked Goat Cheese Pasta