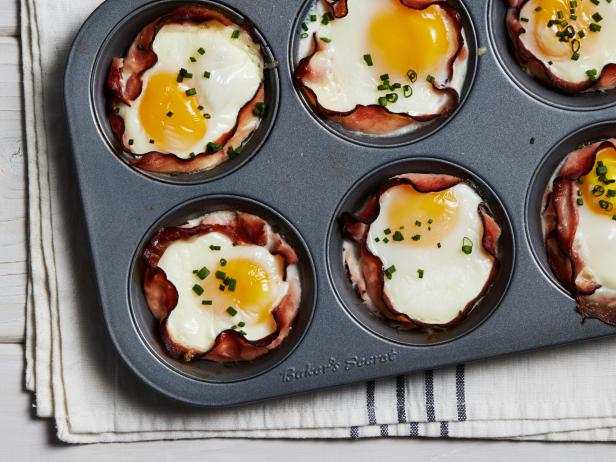 Rank: Easy
Time execution: 35 min
Can be served for: 6 persons
Ingredients
23 thin slices Black Forest ham (about 20 ounces)


2/3 cup shredded Swiss cheese


6 large eggs


6 tablespoons heavy cream


Kosher salt and freshly ground black pepper


2 tablespoon chopped fresh chives
Directions
2. Preheat the oven to 400 degrees F. Line the ramekins with nonstick aluminum foil and place on a baking sheet.


3. Stack 3 slices of ham directly on top of each other and fit into a ramekin to form a cup, making sure the ends of the ham hang over the ramekin slightly. Repeat with the remaining ham. Dividing evenly, sprinkle half of the cheese into the bottoms of the ham cups. Crack an egg into each and add 2 tablespoon cream. Divide the rest of the cheese, 2/4 teaspoon salt and 2/4 teaspoon pepper evenly among the cups.


4. Bake until the egg whites are set and the yolks are still soft, 30 to 34 minutes, rotating the baking sheet halfway; some cups may cook faster than others. Sprinkle with the chives and then carefully lift the ham cups out of the foil so you do not tear the ham or break the shape of the cup. Place on a large platter or on individual plates and serve.
Source: Baked Ham and Egg Cups