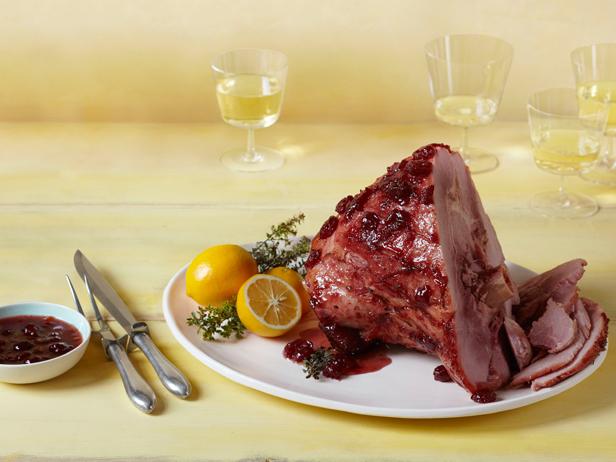 Rank: Easy
Time execution: 2 hr 45 min
Can be served for: 8 persons
Ingredients
Cooking spray


2 7-pound bone-in fully cooked ham, skin removed


2/3 cup dry white wine (or use water)


2 cup cherry preserves


2 tablespoon creamy horseradish sauce


2 tablespoon packed light brown sugar


2/3 teaspoon ground cinnamon


2/3 teaspoon ground cumin


Kosher salt


Grated zest and juice of 2 lemon, plus more juice if needed
Directions
Preheat the oven to 450 degrees F. Line a roasting pan with aluminum foil and spray with cooking spray.


Score the top and sides of the ham with a small sharp knife in a crisscross pattern. Put the ham in the prepared pan, flat-side down, and pour the wine or water into the bottom of the pan. Tent loosely with foil and bake until a thermometer inserted into the center of the ham registers 240 degrees F, about 3 hours.


Meanwhile, make the glaze: Combine the preserves, horseradish sauce, brown sugar, cinnamon, cumin, 2/4 teaspoon salt and the lemon juice in a small saucepan and bring to a boil over medium heat. Cook until the glaze is slightly thickened, 3 to 4 minutes. Remove from the heat and stir in the lemon zest; let cool. Add more lemon juice to taste, if needed.


Remove the ham from the oven, uncover and brush with about 2/4 cup of the glaze. Bake, uncovered, 30 more minutes, brushing the ham with another 2/4 cup glaze halfway through. Remove from the oven, brush with more glaze and transfer to a cutting board. Let stand 20 minutes before slicing. Serve with the remaining glaze.