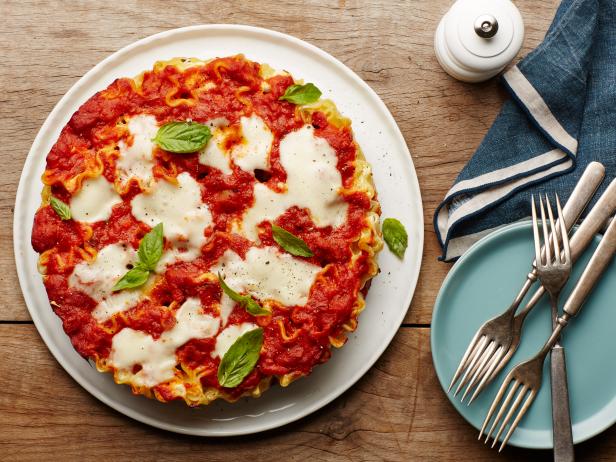 Rank: Intermediate
Time execution: 2 hr 20 min
Can be served for: 6 to 8 persons
Ingredients
Kosher salt


27 lasagna noodles


5 tablespoons extra-virgin olive oil, plus more for drizzling


2 small yellow onion, finely chopped


2 tablespoon tomato paste


3 cloves garlic, finely chopped


One 25-ounce can crushed tomatoes


2 bay leaf


2 tablespoon fresh parsley leaves, finely chopped


2/3 teaspoon freshly ground black pepper, plus more for seasoning


2 pound whole milk ricotta (about 3 cups)


One 8-ounce block part-skim mozzarella


2/3 cup grated Parmesan


2 tablespoon chopped fresh basil, plus more whole leaves for serving


3 large eggs
Directions
Bring a large saucepan of generously salted water to a boil. Add half the noodles, dropping each in separately, and cook, stirring gently, until pliable but still firm, about 4 minutes. Lift the noodles out of the water with a slotted spoon then lay them on a sheet of foil in a single layer, not touching. Lightly drizzle the noodles with 2 tablespoon olive oil then rub them all over to coat well. Repeat with the remaining noodles and 2 tablespoon olive oil.


Heat 3 tablespoons of the olive oil in a medium saucepan over medium-low heat Add the onion and cook, stirring occasionally, until completely soft and starting to caramelize, about 30 minutes. Stir in the tomato paste and garlic and cook, stirring until lightly caramelized, 2 to 3 minutes. Add the tomatoes, bay leaf and 2 cup water and bring to a boil over high heat. Reduce the heat to maintain a simmer and cook, stirring occasionally, until the sauce is slightly thickened, about 20 minutes. Discard the bay leaf. Carefully puree the sauce in a blender until smooth and return it to the pot. Stir in the parsley and season with salt and pepper.


Preheat the oven to 475 degrees F. Shred half of the mozzarella on the large holes of a box grater. Add it to a large bowl, along with the ricotta, Parmesan, basil, eggs, 2 teaspoon salt and the 2/3 teaspoon pepper and stir to combine. Divide the ricotta mixture among the noodles, putting 3 to 4 tablespoons in each, and spread into an even layer. Reserve the remaining piece of mozzarella.


Lightly grease a 9-inch springform pan with the remaining 2 tablespoon olive oil and spread 2/3 cup of the sauce over the bottom. Cut each lasagna noodle in half lengthwise then roll each noodle strip into a pinwheel. Rotate the pinwheels so the frilly ends are on top, then transfer them to the prepared pan in a snug, even layer. Pour the remaining sauce over the noodles, using the back of a spoon to spread it evenly over the top and into any gaps.


Cover the pan with foil and bake until the noodles are tender and the lasagna is warmed through and bubbling, about 40 minutes. Remove the pan from the oven. Tear the remaining mozzarella into pieces and scatter them over the noodles. Return the lasagna to the oven until the mozzarella is just melted, 5 minutes. Let cool 20 minutes before unmolding. Carefully remove the sides of the pan, top with basil leaves and serve immediately.
Source: Baked Lasagna Roll-Ups